When Masters of  Professional Accounting (Specialisation) student Jeffrey Wang started his corporate internship unit, he said he had "no idea" how a business plan worked.
Now after completing the unit, he is ready to step into the world of business - and maybe even become an entrepreneur.
Originally from China, Jeffrey came to the University of Tasmania's Tasmanian School of Business and Economics (TSBE). 
"I found out there was a corporate internship at UTAS and it said the student would be working within a real business environment," he said. 
I thought it was a perfect bridge from study to work, providing you an opportunity to see what you can expect in a real business organisation.
Jeffrey majored in Marketing in his Bachelors degree, and was keen to explore Accounting for his Masters.
"I felt Accounting would interest me, and I wanted to excel in this specific area.
"Just before I chose the program, I watched a documentary called Erasing Extinction about how close human beings are to extinction, and how we need to take action.
"I read about Sustainable Living Tasmania, and then I thought, 'this is a great opportunity', I can do my internship and do something positive for the world."
Jeffrey's project focused on reusing glass bottles.
"For a lot of companies, like dairies or beer companies, they are actually buying bottles after they sell their product. We were trying to provide customers with incentives to return the bottle to the retailer so they can be washed and reused to make it sustainable," he said.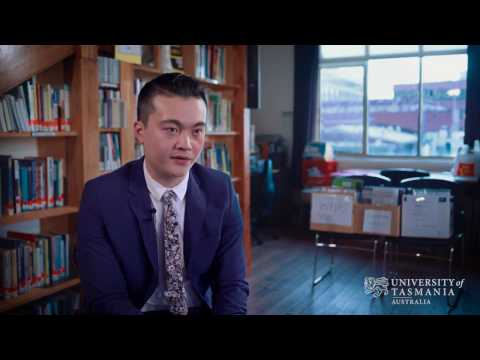 Seventy-five per cent of recycled bottles in Tasmania are put into landfill, which is a huge waste. That is what we wanted to change. Instead of putting it into bricks, roads or landfill, we could literally just reuse the bottles.
He found the project had a great combination of marketing and accounting, allowing him to use his existing skills while developing new ones.
"I looked at things like how to satisfy the sanitary requirements of reusing bottles, and how to convince customers to pay more for the product. I had to break those things down to make it possible, and investigate costs. You really have to dig into every little detail.
"The process really provides you with a sense of how to start a business. It gives you a sense of how to do the basic marketing research and how to improve your problem solving skills.
The first thing you think about accounting is sitting in the office eight hours a day, watching the computer and doing some balance sheet. But I think that whatever job you do you have the opportunity to change the world. It sounds big, but it's actually true.
"Getting involved in this program, I kind felt like I was on a mission, that I could really do something for the environment through my professional knowledge."
Jeffrey said he gained confidence, as well as experience, through the project.
"At first it was really hard, I had never done business consultation before. Making all the phone calls; it wasn't professional. I didn't know what to say at first. As it progressed and my mentor (Todd Houstein.) gave me some advice, I really became more professional in every perspective.
The things that I've learned from this project are that accounting can be really fun and meaningful.
"I eventually want to be an entrepreneur, instead of focusing only on the financial side of the business," Jeffrey said.
And would he recommend the internship to other students?
Most definitely. I think it is the most useful unit I've ever taken. There's not a big difference in what you're studying and what you will actually be doing in business. This unit gives you an idea of what you're actually going to do.
"I feel like I'll be ready for my career, more employable and more confident. When I'm doing job interviews in the future I can really say I was really involved in a project and I think an employer will admire that."
Jeffrey has now been in Tasmania for almost two years.
"I really enjoy everything in Tassie.
It's really a very professional university and you get to know people from a lot of different countries. You really expand what you know about Australia.
"Before I came I was expecting a big city, but actually Tasmania is quite different. It's a small, quiet place. Gradually, I fell in love with this style of living," he said.
"During my leisure time I like to go hiking, camping with friends and on road trips; Tasmania is the perfect place to do all of that. 
There's so many beautiful places to explore. I really feel great about it.
"And compared with the tuition fees on the mainland, Tasmania is about one third. There are a lot of scholarships. Yet we have the world-class standard of education. I think it's a very economical choice."
Jeffrey's next move after study will be to seek work in Hobart and gain more experience.
His overall philosophy? 
Be the best you can be, and hopefully opportunity will come.
Apply now to study Business: http://www.utas.edu.au/courses/study/business