Ashlee Jensen is an IT Analyst at Deloitte Australia, consulting to big business and driving change in IT. It's a graduate position she stepped into straight out of university. 

She studied a Bachelor of Information and Communication Technology (ICT) which she selected because she knew IT was everywhere, and she thought she could get a career out of it. She was right.
I went over to the Melbourne Deloitte office to do an internship, while I was still at uni. As I was graduating, they called me up and asked if I would like to come and join a graduate position – and here I am!
Ashlee works in Deloitte's consulting area for a particular stream called Technology Advisory.
I do strategy for big businesses and their enterprise architecture. Every day and every project is so different in consulting. That is what is so amazing about this job.
"I meet new people all the time, and we're working with the people who are going to drive change.
"You go into the company, and they say: this is where we're at, where can we be in five years' time? IT is doing so many exciting things right now. They want to know what they can do with IT, and where they should be aiming for so that they can be a leading edge organisation."

It's about how we can drive IT to be different, and also find different ways to use IT. It's not what's already there, it's what can we think of that's new and awesome that our clients can build and use.
Ashlee is particularly fascinated by big data – the Internet of Things.
"I love the idea that you can have a fridge that tells you when you need milk. Our clients want to harness that type of technology – and we can help them. It's so exciting.
Ashlee says that the opportunities presented by studying at UTAS, because of the small class sizes, focus on problem solving and real world business experience, were instrumental in her success.
I loved studying at UTAS – all the lecturers were amazing. Because of the smaller student cohort, I could walk into anyone's office and get an hour, and they loved it. They loved that I had questions. It was the best.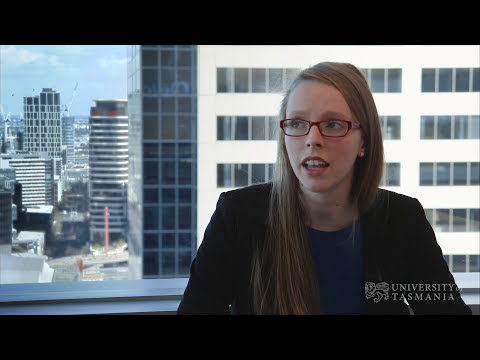 "The access to equipment was also amazing. I took networking in second and third year, and I could go into a lab and access all the IT equipment I needed to help me learn any time I wanted. If you were studying at a bigger university, you could not get that kind of access.
The degree also provides a full year real world project for an industry client. Ashlee says it is the highlight of the degree.
Businesses come to UTAS with something they need developed or a problem they need fixed in the IT space. We come together as teams of about six depending on how big the project is, and we do what you would do as a job, what I do now, for that company.
"At the end of the year, we deliver the solution to the company. My project has actually been used, which was very exciting."
Ashlee's team, which she was the Project Manager for, made a website to help connect families with children living with a disability: www.findingyourway.com.au
"One of the key things that you learn in your degree is how to solve problems and how to approach problems. 
"In IT consulting there is a massive focus on problem solving. Coming here to Deloitte, straight away I could see that no problem was ever going to be the same."
Advice from Ashlee
"Start early, be on it and know what you want."
"Universities are career focused, so don't wait until the end of your degree to think about a job – start looking for a job as soon as you start university. Take the opportunities that are available to you." 
Ashlee did the Deloitte development program in first year. Through that she got the internship, which led to her securing her perfect role. She also worked in the local IT industry throughout her degree.
"While I was at UTAS, there were heaps of emails going around about jobs in IT in Tasmania and encouraging you to apply for them. So I got a job in IT, while I was studying, thanks to UTAS. And that really helped me get the job at Deloitte.
"There was a lot of competition, rooms of heaps of people applying for these jobs. So the opportunities you take on, to make yourself stand out, are important."
A day in the life of Ashlee Jensen
"I work at the client offices, but there are commitments at the Deloitte office also."
8am: Start the day at the Deloitte offices, having breakfast with a colleague. "It's really important to network and meet with people across the firm."
9am: Organise some meetings in the city (Melbourne CBD).
10am: Do some work in a cab on the way back to her apartment to pick up her car.
10.30am: Drive to her client's offices.
11am: Client meetings, work on the clients' project.
3pm: Coffee meeting with the client.
5.30pm: Drive home.
6.30pm: Go to the gym.
"We get to dictate our days very much – its so exciting."
Apply now to study a Bachelor of Information and Communication Technology at the University of Tasmania.