Angus Balcombe wants to help businesses succeed through helping them implement a strategy and accomplish their business objectives.
After studying a Bachelor of Business majoring in Accounting and Finance, and two great internships, he's got the skills to go anywhere in the business world.
"Talking to people who had studied it in the past, it really builds a strong foundation not just in accounting and finance but in everyday life.
The skills and the professions you learn along the way really put you in good stead for whatever you decide to do in life.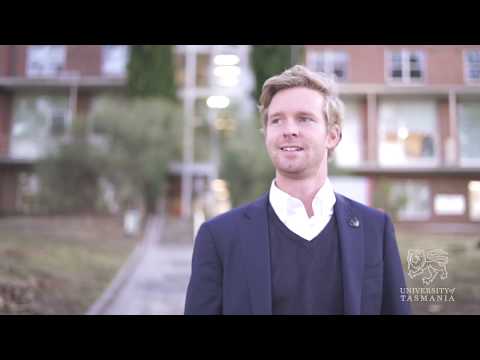 "After doing a bit of travelling and coming back to Tasmania (where I call home) I thought that being able to work for a professional services firm would be a great opportunity," he said.
Angus' choice to study Business paid off, and he's now working as a Consultant at Deloitte.
"Working for a global company provides you with the tools, capabilities and resources to set you up as a young profession, and for having a successful career. For me, this is within Consulting (Commercial Advisory)." 
"My Deloitte internship was a four-week period, with two weeks in commercial advisory and two weeks in family enterprise advisory services. 
I was fortunate enough to go on to starting a part-time position with them until I completed my degree mid last year in 2018, then I started full-time work with them.
"Since then I've worked on some really interesting projects, ranging from economic impact assessments to final business case development, to business transformation plans."
Angus said some of his study requirements have "really gone a long way."
Getting up and presenting in front of your classmates and lecturers or tutors really prepares you for the workplace and dealing with clients.
"Those soft skills that you have, as well as the academics behind it, are really important in regard to holding a decent job in the profession."
Knowing his tutors on a first-name basis meant Angus always felt supported throughout his degree.
"This assisted me with my learning. Getting to know the content I was learning a lot more and getting to know my mentors as well."
Returning to Tassie to study also meant Angus could keep up with his favourite activities.
"I really like getting outside, my hobbies include hiking, fishing, diving, anything to do with water.
"There were lots of social events through Uni as well that were good ways to meet new people."
Angus' goal for the next five years?
"Building a strong foundation in what I'm doing, which I'm really enjoying, and from there specialise in something that really interests me…and travelling as well," he said.
"Travelling to me is something that I really hold close, so being able to incorporate the two would be great."
Find out more about studying Business and Economics here.