How Journalism 101 changed her life forever
31 October 2016
Through practical experience and grabbing every opportunity that came her way, Lucy had already proven that she had what it took to be a great journalist.
On Christmas Day 2015, it was Lucy Breaden behind the News Reader's desk at WIN Television bringing the news to Tasmania.

I thought, 'oh my gosh, when they finally say cue, am I actually going to be able to speak?' I was so nervous. I actually thought that I wouldn't be able to say any words, I'd just be sitting there stunned. Thankfully, something came out.
Almost a year later, Lucy brings the news to Tasmania five nights per week.
In 2010, Lucy graduated with First Class Honours in Journalism from the University of Tasmania. Through practical experience and grabbing every opportunity that came her way, Lucy had already proven that she had what it took to be a great journalist.
When she started uni, she couldn't have imagined she'd be where she is now. She went in thinking that she wanted to be a teacher, but chose a Bachelor of Arts so she could study a broad range of subjects. One of those subjects was Journalism 101.
It changed her life forever.
I thought it was amazing. I just loved it. From there I did radio journalism, convergent media and media law. There were so many different things that you could actually do in the Journalism, Media and Communications major. I tried to keep it really broad and I think that has certainly set me up for where I am now.
Lucy thought that her original choice of a second major in Sociology wouldn't be a good fit with journalism, but later realised they were actually perfect together.
"Sociology teaches you so much about community, and how different people and places correlate. It does gel really nicely with journalism."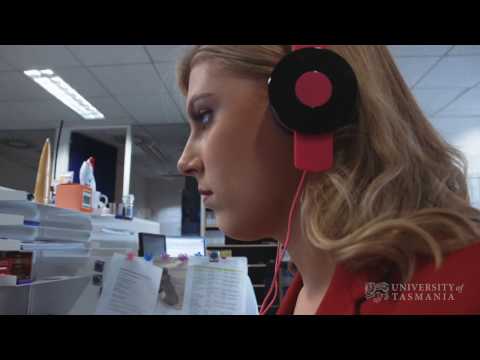 Lucy puts her success down to practical experience, hard work and the myriad of opportunities available in Tasmania.
In her second year of university, Lucy took on a role at Tasmania's largest newspaper – The Mercury.
"It was great. I really got to know how the newsroom worked. I started off as an Editorial Assistant, and eventually started doing some casual journalism and assisting the Chief of Staff.
It was through the practical experience, here and throughout my degree, that I realised this was definitely what I needed to be doing.
"I continued to work at The Mercury for a year after I graduated, and then a job at Southern Cross Television popped up – I went for it."
Here, Lucy used the practical skills she learned at UTAS. This sort of hands-on experience has been significantly expanded in the University's new Bachelor of Media degree which commences from Semester 1, 2017.
"At uni we got to write our own scripts, and voice our own stories. I learned how to write radio copy and used all of that when I was at Southern Cross.
There was a lot I could take away from uni. We put together our own TV and radio stories and it was really interesting. That was the hook for me – that's when I thought, hmmm, I do really like TV journalism, and I think I could make something out of this.
And she did.

I absolutely love sitting in front of the camera and reading the news every night. I have to admit, I never thought that I would be lucky enough to have that job. I feel like I'm one of the luckiest people in the world.
"I also love going out to stories, meeting new people, and hearing what they've got to say. They might think that they don't have anything interesting to say, but the stories that I hear are amazing.
"As a journalist, you are constantly out and about. You don't know whether you're going to be on top of Mount Wellington, down at Dover, or at a bushfire. Every day is so different.
"Then coming back to the office, crafting your story, and turning it into something that you're proud of, is amazing.
"And when you finally see it go to air, that's the cherry on top."
What does a day in the life of Lucy look like?
10:00am:
I arrive at work, write news updates, and do four updates to camera.
10:30am:
A free window to go out and film interviews and stories. Then back to the office to listen to the interviews and write stories up.
1:30pm:
I'm busy doing updates again – about eight for the nightly news. 
3:00pm:
Writing the weather. Another feather in my cap. I love doing that, it's really interesting.
4:30pm:
Pre-reading scripts, making sure I can pronounce every word. There are a lot of words in a bulletin that you've never heard of, surprisingly, or countries that you need to know how to pronounce.
5:00pm:
Into the studio to touch up my makeup. You need a lot of makeup to read the news... you really need to coat it on!
5:30pm:
Sitting in the chair, presenting the nightly news to Tasmania (Lucy does this five days per week – Wednesday through Sunday). It is a long day, but for me, I just feel like I have the best job in the world.
TAGS:
Media-Students
Media
Bachelor-of-Media
alumni
Sociology-and-Criminology
alumnus
Bachelor-of-Arts
College-of-Arts-Law-and-Education
School-of-Social-Sciences
Sociology
School-of-Creative-Arts-and-Media
How can you follow in Lucy's footsteps?