Tassie and science the right chemistry
15 December 2017
Professor Michael Breadmore is the recipient of the 2017 Doreen Clark Medal.
For Professor Michael Breadmore, the combination of science and Tasmania is just the right chemistry for success.
Professor Breadmore is the 2017 recipient of the prestigious Royal Australian Chemical Institute's Doreen Clark Medal which recognises excellence in pure or applied scientific work in Australia that involved substantial analytical chemistry, and for service to Analytical Chemistry in Australia.
As part of the win, Professor Breadmore delivered a conference lecture to analytical chemistry students who converged on the University from all around the country.
It was a fitting setting for Professor Breadmore to discuss his career because he has been part of the University community for around 20 years; as an undergraduate, a postgraduate, and now as a researcher.
And while he has researched, presented, and taught all over the world, for Professor Breadmore the apple isle will always be home.
"I'm Tasmanian, and I believe that the University of Tasmania has provided me with a truly international-class education and I would like to be able to do the same – provide the same opportunities to other Tasmanians.
The other reason is that this is perhaps one of the best places in the world to do what I want to do. The chemistry here is strong. There is so much interaction and opportunity for chemistry to engage with the community in so many different ways.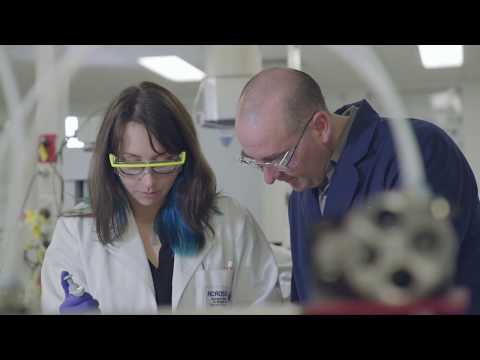 "It's such a small community that you don't have to go far to find someone who can help you or who knows someone who can help you to progress your science, and to help face new challenges in terms of the problems facing society."
As a young boy, Professor Breadmore knew he loved science and the ocean, so for a while he thought he might be a marine biologist. And as an undergraduate at University he began to consider a career in law, until he realised he preferred "the journey of the unknown" that is science.
And now his chemistry journey has come full circle; he spoke as the Doreen Clark Medal winner at the same conference he once spoke at as a young Honours student in 1997.
That's a nice synergy. It's a really fantastic conference that provides students with opportunities to talk and to answer questions and to establish a peer network. It took place in a building that I work in everyday, and all of the students that I have here attended.
Keen to conduct your own research? Apply now to become a 
research student
.
TAGS:
Data-Knowledge-and-Decisions
College-of-Sciences-and-Engineering
School-of-Natural-Sciences
Chemistry
Physical-Sciences
CoSE-Research
research
STEM
science
About Professor Michael Breadmore
Professor Breadmore's expertise lies in the application, understanding and exploitation of the hydrodynamic and electrokinetic phenomena in capillaries and microfluidic devices for the analysis of complex samples. He is particularly interested in the development and integration of sample treatment to construct sample-in/answer-out portable analytical devices. These devices have clinical applications for diagnostics and therapeutic drug detection, forensics for profiling and the detection of illicit drugs and explosives, environmentally for management of nutrients and pollutants, and industrially to control process streams. Professor Breadmore commenced an ARC APD fellowship in May 2004, an ARC QEII fellowship in Jan 2009, and an ARC Future Fellowship in 2014.
View Professor Michael Breadmore's full researcher profile