Real-world theatre experience in Tasmania's wild West
06 December 2018
Theatre students immersed in The Unconformity.
Tasmania's wild West Coast provided rich experiences and learning for the University of Tasmania's Theatre students last month.
Taking part in the biannual contemporary arts festival The Unconformity in Queenstown, the Bachelor of Contemporary Arts (Theatre) students volunteered their time and were able to work with international, national and local artists, accompanied by the University's Head of Theatre Dr Jane Woollard and Lecturer in Theatre Dr Asher Warren.
Dr Warren said the experience was part of the development of the new theatre and performance major, which focuses on helping students become work-ready.
Dr Warren said the new major was about giving students a wealth of skills that they can apply in the real world.
Being part of the festival – not just seeing the work, but how it comes together – gives the students a great opportunity to connect what they're learning in the classroom to the real world.
For student Tegan Burgess, 21, The Unconformity cemented her dream to develop her own small festival, which is planned for February next year.
Originally from Melbourne, Tegan had always thought about running her own festival, and her inspiring experience at The Unconformity made this seem possible.
The festival by far, was one of the best experiences of my life.
"I thought I would have been doing a lot of the dirty work, like taping down cables and the simpler jobs, but I got to work side by side with professionals who took the time out to teach me things and hear my opinions and truly treat me like an equal."
Fellow theatre student Katrina van Donselaar, 21, agreed.
It's one thing to attend a festival, but to work on one is on a whole other level.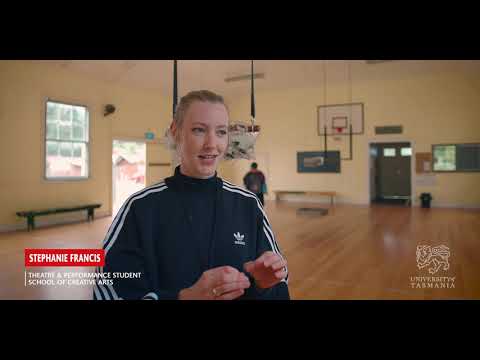 "I learnt how ideas can be made into a skeleton and then be fleshed out to become something really special.
"Not many people who attend festivals would understand how much hard work and hours are spent on figuring out logistics to create something that just works and runs so smoothly.
"There are so many people working behind the scenes to make sure everything gets done when it needs to and if something goes pear shaped how they manage to work around it."
Dr Warren said of the many festivals dotted across the state, The Unconformity is particularly well named as it is an inherently unique event, responsive to the particularities of Queenstown's unique geology, ecology and culture.
"A central ethos of The Unconformity is the curatorial commitment to site-specific and locally engaged work," he said.
"Many of the works are unique to the location and the people of Queenstown and developed by artists through multiple visits to the town."
Students were involved in setting up various events within the festival, and Dr Warren said a highlight was the opening spectacle, Tectonia, a collaboration by Ian Pidd, Martyn Coutts and Dylan Sheridan, which closed down the main intersection to host a nine-tonne rock and towering speaker stacks.
In a review of the festival for The Conversation, Dr Warren described the work as a "tremendous, visceral soundscape" which "condensed some 500 million-odd years of geological activity into an hour of epic, quadrophonic sound".
Dr Warren said the experience was an excellent experience for the students, allowing them to build work experience, to develop networks in the arts industry, and provide exposure to new and innovative work.
All the students received glowing reports for their competency and they were able to experience collaborating and working with other professionals.
"It's such a great festival that brings artists from all around Australia and the students were able to see how these artists work.
"Being a performer in festivals opens lots of opportunities, which are very different to traditional theatre. You develop skills to perform in a range of environments. They're a melting pot for practitioners."
The Unconformity was previously known as the Queenstown Heritage and Arts Festival and is held every two years. 
Sound exciting? Find out more about studying Theatre and Performance.
TAGS:
community
Theatre-and-Performance
Tasmania
College-of-Arts-Law-and-Education
students
School-of-Creative-Arts-and-Media
student-experience