From Malaysia to Tasmania for the love of Law
08 August 2018
International student Gina Goh is the recipient of the Malaysia Law Scholarship.
Gina Goh has only been studying in Tasmania for a few months, but she already loves Hobart.
Gina came from Malaysia to study at the University of Tasmania supported by the full-fee Malaysia Law Scholarship.
"I really like it, I love Hobart and I'm loving the University. The people here are really friendly. I'm really enjoying it," she said.
Gina found out about the scholarship from an education agent back in Malaysia.
The University of Tasmania is a pretty popular university among Malaysians. When I heard that they had scholarship opportunities for international students I was pretty excited.
"The application process was pretty uncomplicated and easy to do.
"The University was really good about giving me regular updates about which stage I was at throughout the selection process. That was really helpful."
Gina encouraged other prospective students to apply for the scholarship, saying "you never know the chances."
"I wasn't really expecting to get it so it was a huge shock. Definitely do apply. The rewards and the benefits of actually receiving the scholarship are really incredible."
Gina said her family was supportive of her move to Australia.
"They were really happy about the scholarship because I think without it Australia might not have been an option for me. My parents were really happy about it," she said.
"They've heard a lot about Hobart and they really want to come over and visit soon."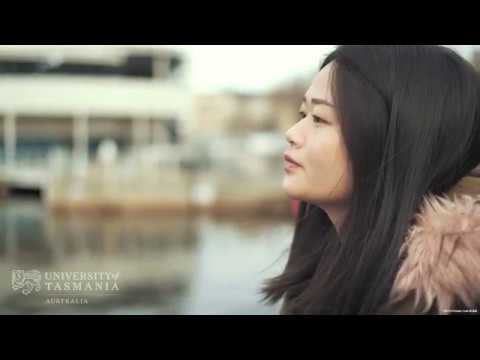 A "huge privilege"
"The scholarship is a huge privilege to me. When I was applying for the scholarship I was asked to write an essay on social justice issues in Malaysia and that's an issue that is very, very important to me.
It also means I am able to come to Australia to a prestigious university without having to place a really heavy financial burden on my family. I am really grateful for that.
A love of law
Gina said the reputation of the University's Law School was a deciding factor in her move.
I've heard a lot of good things about Tasmania and the University of Tasmania is a pretty popular choice amongst Malaysians for its Law degree. Knowing that it's one of the oldest law schools in Australia was a really big appeal as well.
"I heard a lot of good things about Hobart. I kind of like the fact that it is a small city, a quiet city but really comfortable. The weather is amazing as well."
Gina said "the people here are really friendly."
"I've got to know a lot of Law students and it's really nice because they've also got similar aspirations and goals, so it's very motivating and encouraging as I do my degree here."
Gina's hope for the future is to be a lawyer in Malaysia.
"I want to use my degree to do good in Malaysia. There are some quite prevalent social justice issues in my country and I think one of the best ways I can use my Law degree is to go back and work and use my skills that I've obtained from this degree to try and address some of the issues there," she said.
So far it's been an amazing experience. If any students are thinking of coming here, they should definitely come here.
Interested in applying for study? Find out more here.
Find out more about the University of Tasmania's scholarships here.
TAGS:
Law
Students
Law-Students
scholarships
international-student
College-of-Arts-Law-and-Education
Faculty-of-Law
student-experience