In his 20s Craig Gooding was working in a factory, as a labourer for a shop fitter. He didn't know what he wanted to do with his life. But he knew one thing: he was bored with his repetitive job.
Today, he is in a job he loves, teaching primary school children.
Growing up in the UK, I don't think I had the best education. If someone told 18-year-old me that I'd be a teacher, I don't think I would have believed them.
"After travelling, I started reflecting on my education and thought I can do it better, I can make a difference. This led me to make the decision to go into teaching, and ensure I taught the way I thought it should be done; building relationships, showing respect to students, and reflecting upon my own practice.
"It was at that point I started to think about teaching as a career. I got a job in Out of School Hours Care, to see how I would go with kids.
"I worked in Out of School Hours Care for six years and I loved every minute of it, and halfway through that I signed up with the University of Tasmania for study . And I loved every minute. 
I needed to stay in full-time work, so I did some research online and found there were four or five universities offering the same sort of course, and UTAS seemed to be the best of those universities.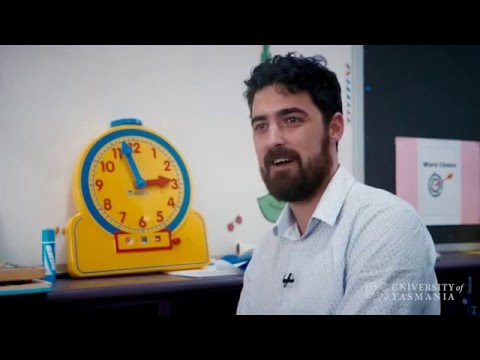 "What they were offering suited my needs. I called up and spoke with a couple of people and they were straight onto it. They got back to me straight away, they sent me material and emailed me information, they encouraged me to read through. 
I just got a great feeling straight away from UTAS. There was no waiting. I had a great experience with UTAS.
Studying the Bachelor of Education (Primary) while working full-time with a young family was tricky, but with support from staff, and the flexibility of the course, Craig made it work.
"My first child was born when I was halfway through my degree. I spoke with Peter Brooks (Manager, Academic Administration – Education) and he worked out how I could drop a unit for that first six months with the baby. Then I picked up extra units later to make up.
"There were a few times when I thought, 'how am I going to do this',  but we talked out different options, like picking up extra units or dropping units when things were hard.
Studying online, if you didn't understand something or didn't take it in, you could get a cup of tea, listen to some music, and then go back and rewatch the lecture.
"To anyone studying online I'd say, try and make contact with other students through the discussion boards or Facebook groups. That helped so much. Having someone you can email, call or message and say 'what are your thoughts' on an essay, is great."
Now that he's working as a teacher, Craig is putting into practice the skills he learned throughout his degree.
I actually got this job before I graduated. I work better under pressure and that allowed me to keep focused. I was thinking, 'you've got a dream job at a good school, let's just push forward.'
Craig advises teaching students to "make connections" at every school they do practical placement at.
"You never know where a job's going to be at the end. Put in the effort and you'll be rewarded.
"It's not a 9-3.30 job but most of it is really enjoyable. It's one of those careers, you've just got to love it. You're not in it for the money. You just love what you're doing.
"When my new students come in and are at the stage where they can't yet write, it gives me a chance to look back at last year's students that have just gone into grade one. Every one of them can now read and every one of them can now write. Every one has the basic numeracy skills. There's enormous pride in that.
"You can look back at those students and think, 'I had a part in that.' You've made a difference. You believe in them, and hopefully they can take that with them.
"I think we all remember a good primary or high school teacher we had, and you want to be that person. In 20 years' time, someone could be saying 'I remember Mr Gooding, he had a key part in my life.' 
I hope that one day they say, 'that was somebody that listened to me, that was somebody I wanted to work hard for, and that was somebody that brought out the best in me.' That's what I'm trying to do with every student, bring out the best in them.