Mining for precious, base and ferrous metals can result in millions of tonnes of tailings and waste rock, which if left unmanaged can have dire environmental consequences.
Poorly designed storage facilities can potentially leak pollution for centuries or even millennia. This pollution can be in the form of wind-blown dusts or, or it can be more destructive in the form of seepage from mine wastes into groundwaters or surface waters.
But, what if you knew how to minimise a mine's future environmental impact?

Laura Jackson is a postgraduate student in the ARC Industrial Transformation Research Hub for Transforming the Mining Value Chain at CODES, University of Tasmania.

"The title of my PhD is Geoenvironmental domaining of low/no grade zones and it's really about trying to find predictive methods for determining the potential impacts of mine waste on the environment."

Laura said that historically the mining industry has focused on addressing the impacts of mining after the fact, and that the cost of those "rehabilitations" can be significant.

The industry is mining deposits that are lower in grade, which means we have even larger volumes of waste rock to deal with, she said.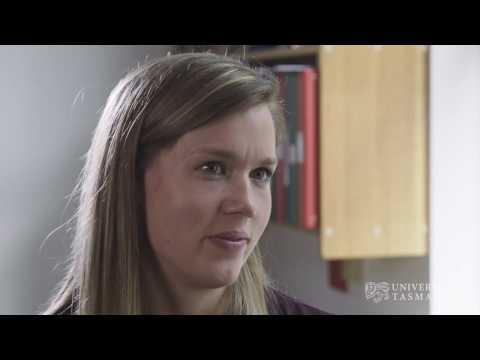 This waste rock can in some cases have the potential to leak harmful elements into the environment.
"A major environmental concern surrounds sulfide minerals, mostly pyrite, which react with oxygen and water, causing sulfide oxidation and resulting in the release of acid drainage. They're the minerals we need to locate early in the life of mine, while we are going through exploration and pre-feasibility stages."
"My project is trying to focus on the predictive side, and locate the sulfide minerals that can potentially cause acid drainage, or the carbonate minerals which can neutralise it, so when you establish a mine, you're aware if you're moving through a high-risk or low-risk zone.
Therefore you can better manage the mine's waste material up front and know what you will be dealing with further down the track.
Laura focuses on mineralogical evaluations in order to characterise each sample. Laura uses wet geochemistry to validate her research, a method that crushes and tests a small rock sample. The sample then goes through a set of tests to find how much sulfide or carbonate is present.
"We are trying to look at proxies for this, so if you can use things like hyperspectral scanning, or UV-fluorescence or chemical staining as proxies, it helps reduce the time scale and the costs," she said.
Laura said using this technology from an environmental perspective was an innovative and important step.
"Luckily I get to spend a bit of time working in the field, on site, looking at drill core that's previously been analysed in detail by scanning companies, such as Corescan.
"When I'm back here at UTAS I then access these samples via a viewer, and it tells me what minerals they have identified and where.
"I take a representative sample which is then crushed and ground. Then we do our wet geochemistry, so that involves labwork, seeing how things react and what minerals are present.
"Then I conduct mineralogical and chemical analyses. So if we're seeing this type of minerals and these types of reactions, what does that mean?"
Laura said her ultimate research outcome would be to produce a new set of geoenvironmental protocols for the industry.
"These could potentially become industry standard work flows, so as a new mine site is opening a certain set of procedures, including hyperspectral scanning and laser work, would be conducted routinely as part of a bulk geoenvironmental assessment.
There are worldwide applications for something like this. This is such an applied project, it's directly relevant to industry.
Laura said she just "stumbled into geology."
"I really like CODES. We have people moving across countries to study with us. Everyone is really helpful and really interested in their research. That's inspiring."
"For me, it was the logical thing stay here for postgrad," she said.
Even the junior postdocs are getting such a big reputation early on in their careers. It's a really good start if you wanted to stay in academia, to be here at UTAS.
Laura's research is part of the ARC Industrial Transformation Research Hub for Transforming the Mining Value Chain (TMVC). The TMVC is funded by the Australia Research Council (ARC), AMIRA International, Newcrest Mining, BHP Billiton & Corescan (Partner Organisations), Laurin Technic & RWTH Aachen University (Other Organisations) and various other Additional Funder Organisations.
Keen to make your own impact? Find out about starting your research degree here.