You could say Bridget Hickey didn't take a traditional path at university. Instead, she studied across disciplines, between Fine Arts and Humanities, picking subjects that she loved.
This diversity uncovered a passion for audio storytelling. Now, as the recipient of one of Australia's most prestigious scholarships, Bridget is packing her bags for New York to join one of the most vibrant radio communities in the world, and study her master's at an Ivy League university.
"I wanted to do everything. So I did three majors in Painting, Art Theory and English, and I minored in Japanese. I also did a bunch of other units including Sociology and some Time-Based Media and Drawing units at the art school.
"In my first semester at university, I went to see a subject counsellor. I loved all of my subjects, but I was spending a lot of time going between the art school (Hunter Street campus) and the arts campus (Sandy Bay). I thought I wanted to be a painter and a curator, but I didn't know what was right for me.
The counsellor looked at my subjects, and she said, 'these are all different forms of communication – you've got an idea, and you want to share it,' and she was right.
My subjects have been so diverse, and spread across lots of different disciplines, but I wouldn't change a thing. All of the different areas that I have studied inform the other. I find that I can make connections that others miss, and I can navigate different ideas that way.
While undertaking her Bachelor of Arts and Bachelor of Fine Arts, Bridget found her passion for radio away from the textbooks and lectures. She was hosting an arts radio show, Plain Air, which she co-founded during her studies on Edge Radio. While her initial focus had been art, as the subject matter, the medium grabbed her.

After finishing her undergraduate degree, she took off to the USA for a year and worked for a radio station in Brooklyn.
When she returned to Australia, she started her Honours in Asian Studies exploring Japanese cultural responses to the Fukushima nuclear disaster. She also took on a casual role as a producer for ABC local radio and picked up freelance projects producing other content.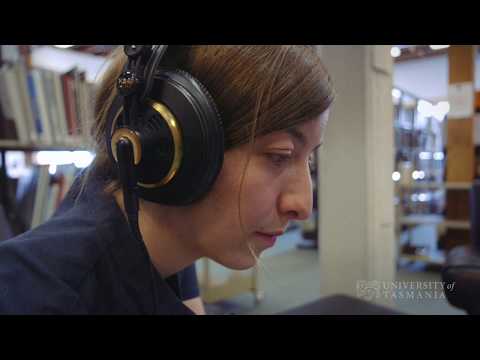 While completing her Honours, she successfully applied for the John Monash Scholarship, one of the most important and financially generous scholarships in Australia. Unlike other prestigious awards, including the Rhodes or Fulbright, the John Monash supports outstanding Australians to undertake their master's or doctoral degree at an overseas university of choice.
Bridget is using the award to undertake her Master of Science degree at Columbia Journalism School in New York, focusing on radio and podcasting, so she can contribute to journalism across the Asia-Pacific region. Columbia University is home to one to the world's leading journalism programs.
In the USA, they have an incredibly vibrant radio community. I'm passionate about telling stories, in particular, regional stories from all over the world. Finding ways to get people's stories heard is what motivates me. But I don't know exactly how I will be achieving that.
I may work for a media company or be freelance, and I may do a combination of both. And I don't know what country I'll be based in. I love to plan new projects, and I get bored easily, so that fact that my career is fast paced and I don't know where I'll be next week, works for me. It's incredibly exciting.
Bridget says that we are often channelled into one area of work very early in our lives and that while she says her career choice isn't easy, she wouldn't have it any other way.
I have never had a clear direction in the traditional career sense, but for the type of career I want to have, there isn't a clear pathway with boxes to tick. There isn't a specific career ladder to climb. But there are certain things that I know I want to achieve and with arts and visual arts I can do really interesting things and think outside the box.
"It means that I need to put myself forward for things, like the John Monash, because I don't work for a particular organisation. And I need to show that I can do what I say I'm going to do."
---
Interested in studying a diverse range of subjects like Bridget? Check out: