Banner image: Drop weight impact chamber.
Crash testing cars is generally simple and pretty inexpensive…but underwater vehicles– with massive price tags and complex engineering –need a different approach.
A world-first facility that will be used to simulate for underwater vehicles what crash testing does for cars has opened at the University of Tasmania's Australian Maritime College (AMC).
The Underwater Collision Research Facility (UCRF) is a joint development between Defence Science and Technology (DST) and the AMC, which will be used to simulate the collision of underwater vehicles under laboratory-controlled conditions.
At the centre of the UCRF is a large, drop-weight impact test machine that will smash custom designed and floodable scale models of vessel components and sections.

Facility manager and AMC project lead Roberto Ojeda said the UCRF would allow researchers to study the complex fluid-structure interactions at play in underwater collisions in controlled laboratory conditions.
The presence of water changes everything. And when you're dealing with underwater vehicles, the water isn't just around the vessel, it's within it, which means, under impact, these structures behave very differently to structures colliding in dry environments.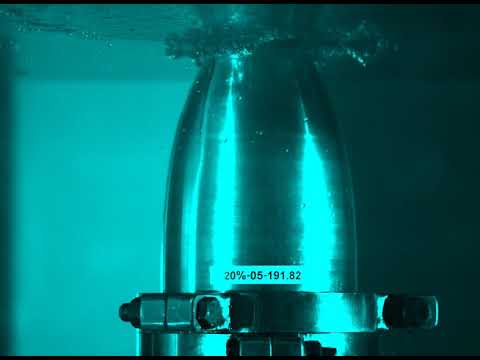 "Understanding how structures respond to these events allows us to better assess risks and to mitigate them through design."
DST lead collaborator, Bernard Phelps, added that in order for the technical risks involved in underwater collisions to be properly quantified, the assessment methods used must be validated to prove their suitability for use in such circumstances. The UCRF is a unique facility that will enable the essential empirical results, that are needed to provide this validation.
The UCRF could also play a role in:
Collision and design assessment of autonomous underwater vehicles (AUV's) including those substantially constructed of composites
Shock qualification tests for equipment used on naval platforms
Support to offshore industry, such as in relation to pipelines and offshore structures subjected to impacts.
The UCRF will be a centrepiece of the University of Tasmania's Maritime Defence Innovation and Design Precinct (MDIDP), which will be developed at the AMC's Newnham campus.
University of Tasmania Vice-Chancellor Professor Rufus Black said the facility added to an existing suite of maritime research facilities which are the most advanced in the Southern Hemisphere.
"We are committed to making a technical contribution to the development of Australia's sovereign naval ship building program commensurate with our role as the national maritime institution," Professor Black said.
The opening of this new facility builds on the historic strengths of the University and the AMC and illustrates the impact – literally and figuratively – Tasmanian science and engineering can have on meeting national challenges.
Australian Maritime College Principal Michael van Balen AO said the UCRF would advance AMC's aim for the MDIDP to become an integral part of the national Defence Network.
"The UCRF will add innovative research knowhow to the work already done at our unique research facilities to advance defence and defence industry requirements," Mr van Balen said.
"The research will enable Defence to operate ships and submarines in the most operationally safe and effective manner."
Find out more here. 
Interested in studying at the AMC? Find out more here.