For a geoscientist, there could be few places more tantalising than Tasmania.
Shaped by natural forces over billions of years; each rock, mountain, valley or stream offers scientists a unique window into the past.
The state has a rich, almost unparalleled diversity in its geology and landscapes.
There are expanses of glacially-carved lakes, huge shards of the Earth's crust that stretch to the sky and deep below the Earth, ethereal limestone caves.
It seems only natural that Mark Williams, an information technology (IT) professional who turned his back on the corporate world to pursue his passion for landscapes, was drawn to the tiny heart-shaped island from the sunny climes of Sydney.
Mark, now a geoscientist and lecturer in the School of Technology, Environments and Design at the University of Tasmania, has found a way to combine his deep appreciation of the natural world with his technological prowess.
Eyes in the sky
By combining the use of unmanned aerial vehicles (UAV), a pioneering digital toolkit, and the old-fashioned 'boots on the ground' approach to fieldwork, he has developed a new approach to exploring and documenting Tasmania's rich natural diversity, also known as geodiversity.
Think of drones soaring through the sky, capturing footage of the edge of a horst blocks — giant slice of the Earth's crust — which is then used to generate three-dimensional models of the geological wonder.
Or think of a geoscientist who can hike into the wilderness, taking photographs of rare rock formations and basic measurements using a smartphone, which are uploaded into a digital database.
While Mark's approach is designed for park management, it could also be used to protect and promote ancient landscapes.
Most people are familiar with the term biodiversity, but geodiversity is the Earth's hidden gem.
It refers to the variety of 'non-living' nature, which includes: minerals, rocks, fossils, soils, landforms and the processes that have shaped these features over millions of years.
"Geology and biology are intrinsically linked," Mark said.
"For instance, rocks break down into soil, and soil provides nutrients for the plants, and then that links directly through to life, such as animals and humans.
"There are also ecosystem services, which are essentially services that the Earth gives you, such as clean water and air, and a lot of that is linked directly to the underlying geology.

Geodiversity also contributes to the resilience and adaptive capacities of biodiversity by providing a range of habitats for species.
To ensure a healthy ecosystem that endures, Mark said geodiversity needs to be managed effectively. 

"Successful management of geodiversity depends on the capacity to understand, assess, classify and monitor geoheritage," he said.
This kind of management could extend to establishing geoparks, which are protected areas that encourage sensitive tourism in and around sites with significant geoheritage.
Geopark potential
In Tasmania, geoparks could enable avid bushwalkers to explore and take in some of the island's most significant geological sites.
The state is spoilt for riches.
A huge dolerite sheet covers two thirds of the island, a reminder that the whole archipelago was once part of the super continent Gondwana.
Rocks represent every geological time period and there is proportionally more limestone in Tasmania than in any other part of Australia.
It is this uniqueness that attracted Mark to the island. The avid bushwalker craved a career in the outdoors after a decade spent confined to corporate life.
He took the bold step of completing a second bachelor's degree — a Bachelor of Science (Geology) in Sydney and sought out a career pathway grounded in conservation.
"I wanted to move away from big corporation and profits to something that was altruistic and had more meaning," he said.
"I've always had a passion for wild landscapes and particularly mountainous regions."
"When I found a Master of Applied Science (Environmental Management and Spatial Sciences) at the University of Tasmania, that really appealed to me, especially because it had a unit called Geoheritage and Geotourism, which was the only unit of its kind in the country."
Wellington Park geo-heritage
Around the same time, he received the Governor's Environment Scholarship, whose patron is the Governor of Tasmania Kate Warner AC, and which is generously sponsored by the Tasmanian government and business organisations.
The scholarship, valued at $7500 for one year, is presented annually to a student undertaking an Honours or Masters project that relates to management of the environment.
As part of his Masters, Mark helped the Wellington Park Management Trust update its geoconservation site inventory.
"The geological site inventory includes rich mineral outcrops, landforms—anything that's significant or the best of its type or that tells the story of the evolution of the landscape," he said.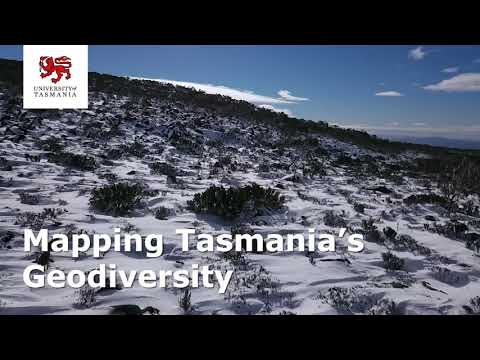 Mark was able to get immersed in the natural world and hone his field skills, while developing new digital technologies such as mobile applications using Geographical Information System (GIS) mapping software to compile the inventory, making it accessible and interactive.
Previously this work would have involved: a literature review, a field trip to record data and transferring the information onto a printed map so it could form part of a management plan.
Instead, he customised a piece of software that contains layers of information about a site, including the geology and vegetation.
"It allows you to go into the field with a mobile app and use your smartphone's GPS and walk around the boundary of the site to record its shape," Mark said.
"You can then add in details about the site, such as the distance from the nearest road, descriptions and degradation.
"And then you can attach photographs of items of significance directly in the field.
"When you get back to the office that is all synchronized with a web map.
"The only thing you need to manually create is the 3D models, which are captured with drones in the field."
While this application of his Mark's digital toolkit is primarily for land management, it could evolve into a mobile phone app that could be used to help visitors to explore their surrounds.
"It could also help identify and establish geotrails that guide people to key geoconservation sites, including explanatory notes to tell visitors about those sites, how they formed, and why they are special," he said.
Ultimately, Mark believes that a better understanding of geodiversity will strengthen our sense of place and form the bedrock of a new era of conservation.
You can read more about Mark's research in this storymap. For further information about his work on geoconservation and geotourism read his online article.
Find out more about the role of digital tools and geoconservation in this journal article.
Mark is part of UTAS Geoheritage, a group dedicated to research, assessment and practice of Geoconservation in Tasmania and Australia.