What do a meat scientist, rural reporter and profit specialist have in common? They all studied a Bachelor of Agricultural Science at the University of Tasmania!
A degree in agricultural science develops sought-after skills that could see graduates working in diverse roles including on farms, at board tables, in classrooms, in laboratories, or advising governments.
The Bachelor of Agricultural Science with Honours is taught by the Tasmanian Institute of Agriculture (TIA).
"Young people have a real reason to be excited about the enormous potential and rewards of a career in agriculture. Our students have an opportunity to address some of the world's biggest challenges and opportunities using science, technology and business skills," Professor Michael Rose, Director of the Tasmanian Institute of Agriculture (TIA) said.
"With six jobs to every agricultural science graduate in Australia (2022), our graduates are spoilt for choice and taking their pick of exciting jobs around Australia."
Find out where our graduates are working
Ollie grew-up on a dairy farm in North-West Tasmania and studied a Bachelor of Agricultural Science and Master of Business Administration.
He created an AgTech startup Pasture.io to help farmers worldwide achieve improved efficiency, higher profit margins, and greater peace of mind in an environmentally sustainable manner.
Ollie leads multiple departments including sales, marketing, software engineering, finance, accounting, and operations.
He says agriculture is a rapidly evolving industry with many ways for people to make a positive impact through diverse roles including science, business, and technology.
Alison studied a Bachelor of Agricultural Science and later completed a social research PhD to gain a greater understanding of on-farm decision making and how farmers engage with extension activities.
She works in Northern Tasmania as a Profit Specialist with Fonterra, which involves a lot of time spent on dairy farms, meeting people, and enabling successful farming businesses.
She supports farmers to achieve their goals through services including financial analysis and benchmarking, preparing budgets and business plans, and identifying possible areas of improvement in their business.
Alison says her studies provided her with a solid background in science, critical thinking and analysis – skills that are valuable in a range of agricultural sectors.
Ben studied a Bachelor of Agricultural Science and completed further postgraduate study. He currently works as a Meat Scientist to support Australia's beef and sheep industries to deliver high quality and safe red meat products.
Ben works with a range of stakeholders including consultants, livestock producers, export abattoirs and scientists to help solve challenges and connect agricultural practices to the consumer experience.
A particular interest for Ben is ways to improve access to high value markets, develop meat products with enhanced sensory and nutritional qualities, and work towards more sustainable livestock and meat processing practices.
He encourages students to gain a broad understanding of agriculture through their studies before choosing a specialised field.
Max studied a Bachelor of Agricultural Science and completed a PhD in plant physiology. He now leads a team cultivating over 40,000m2of medicinal cannabis in a mix of high-tech greenhouses and other production systems.
Max is part of a new and rapidly growing industry with lots of opportunities for research and innovation in production practices. He enjoys getting to use the latest in high-tech horticulture technology to get the best outcomes from the plants.
Max says Tasmania has some amazing agricultural innovators and he encourages students to have an open mind about career pathways.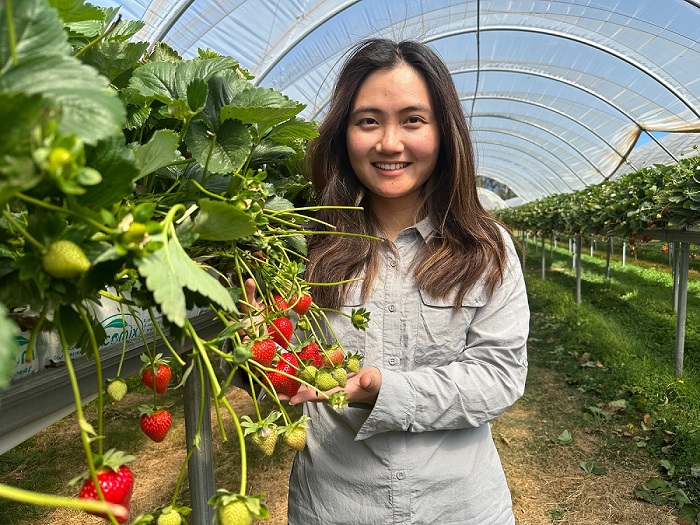 The next time you bite into a delicious strawberry, blackberry, blueberry, or raspberry, you could have Edna to thank.
As a Berry Agronomist, Edna is responsible for plant health and providing advice on the development and growth of plants. This includes knowledge in pest prediction and response, managing the maintenance of plants, managing irrigation, and preparing spray programs.
Edna studied a Bachelor of Agricultural Science and encourages students to learn as much as they can to equip themselves for jobs in a wide range of fields.
She says agriculture is a career that never gets boring!
Lucy didn't grow up on a farm and hadn't considered working in agriculture until realising the endless career opportunities.
She studied a Bachelor of Applied Science (Agriculture and Business) and Bachelor of Agricultural Science and is now reporting for ABC in North Queensland where she tells unique stories of rural and remote Australia through radio stories, digital articles, and video content on television and social media.
Lucy's job allows her to travel around North Queensland, from the Whitsundays to the Cassowary Coast and out west to the Outback.
She feels lucky to be involved with the agricultural industry and describes it as rich, vibrant, and rewarding.
Studying a Bachelor of Agricultural Science opened up a world of opportunity for Anna. She works for an independent agency within the Australian Government Foreign Affairs and Trade portfolio with the mission to catalyse more productive, sustainable and resilient food and farming systems for the benefit of developing countries and Australia.
Anna helps to manage research projects across the Indo-Pacific region through project monitoring, relationship management and financial reporting.
The most rewarding part of her job is helping to reduce poverty while at the same time contributing to solutions to meet agricultural challenges at home in Australia.
Studying a Bachelor of Agricultural Science opened the door for Ashlea to work in production research, where she explores new and exciting ways to support the agricultural industry in Tasmania.
Her favourite part of the job is how variable it is, from being in the field assessing disease trials, rearing pollinators in greenhouses, or in the office working on planning and presentations.
Ashlea said her studies provided a good overview of the agricultural industry in Tasmania, foundational knowledge, and a strong support base of lecturers and fellow students.
After completing a Bachelor of Agricultural Science, Thomas took on the role of orchard manager at a pear orchard in Southern Tasmania where his family have been growing apples and pears for four generations.
His job involves managing, overseeing and performing day to day tasks required to operate an orchard. The best part of the job is seeing the pears come into the shed after being picked and knowing all the challenges that have been overcome during the season to reach this point.
He encourages students to make the most of every opportunity to travel and learn.
Max completed a Bachelor of Agricultural Science and is now working with Tasmania's largest private forest management company. His job involves a mix of plantation management and setting-up and running research trials.
Every day is different, and Max could be doing tree measurements and soil samples, meeting contractors, or ensuring that forestry practice plans are on track.
Max says the best part of the job is being outside in the bush and visiting places that he didn't even know existed.
Pip studied a Bachelor of Agricultural Science and now lives in North-West Tasmania where she manages a Lilium flower bulb production company.
The company grows between 16 to 20 hectares of bulbs and produces cut flowers during the summer months from a 2-hectare glasshouse.
Pip's job is diverse and involves managing the propagation, planting, growing and harvest of bulbs, along with human resource management, communication, and leadership. She also needs to be familiar with crop management facets of agronomy, irrigation, and crop monitoring.
The best part of Pip's job is that every day and every season is different, which presents a rewarding opportunity to build knowledge and put it into practice.
After completing a Bachelor of Agricultural Science, Sarah returned to her family farm on Robbins Island where she spends her time outside working with cattle or in the office taking care of the accounting work.
There's no such thing as a typical day and Sarah's job includes a variety of tasks including general farm duties, animal health and husbandry practices, assisting with the superovulation and in vivo fertilisation of cattle to increase genetic progression, data collection and analysis, and account work.
The most rewarding part of the job is tracing cattle from birth onwards to see how the genetics combine and perform to create the final product.
Iain completed a Bachelor of Agricultural Science and now works in the Tasmanian grass-fed beef production system which he describes as complex, science-rich and rewarding.
No two days are the same and Iain undertakes a wide variety of on-farm tasks decision making. He also provides agronomic advice to other farmers around Tasmania and inspired by working with and learning from some of the state's leading farmers.
His advice is to find a job that allows you to work with respected and talented mentors that will elevate you and your education.
Olivia studied a Bachelor of Science with Honours, focussing on food microbiology. In her role as national quality manager of salmon and seafood at Tassal, she is responsible for ensuring that the company's seafood products are safe to eat and have a consistent quality for consumers.
The most interesting part of Olivia's job is that not every day is the same and she is always learning something new. She also finds it rewarding to use food microbiological knowledge as a part of her day-to-day job.
Olivia highly recommends a career in agriculture for students that are passionate about feeding the future and want to be a part of a supportive community.