Laboratory Medicine is at the heart of healthcare. Start your career in diagnostic pathology or medical research laboratories and start making your own contributions to the medical science field in Tasmania and beyond.
The Bachelor of Laboratory Medicine is designed to prepare students to work in specialised medical and pathology laboratories that provide essential diagnostic services. You'll gain knowledge and a variety of skills in professional areas such as clinical chemistry, endocrinology, haematology, blood transfusion science, histopathology, microbiology, human molecular biology, and immunology. This degree is also a launch pad for your career as a medical scientist or entry into Medicine.
Learn about university terminology and definitions in our glossary
Course Options
Bachelor of Laboratory Medicine
Minimum 3.5 years, up to maximum of 8 years
Launceston CRICOS 093979E
Accredited by the Australian Institute of Medical Scientists (AIMS).
Graduate as a Medical Scientist, working in pathology labs worldwide.
Learn to gather valuable information in the diagnosis and treatment of patients.
Pathways
At the University of Tasmania, we'll help you get the skills you need to pursue a degree. We offer a wide range of preparatory and pathway programs, as well as short foundation programs, to assist in the transition to university.
Postgraduate:
If you've already completed a degree in Biochemistry or a Medical Science, Health Science, Science or other related discipline, you can complete the
The Bachelor of Laboratory Medicine is three and a half year degree which combines both theoretical and laboratory based learning. The course comprises of 350 credit points in total. Your final semester will be your Professional Experience Placement, out in the field.
1
Year One
What you will study
Semester One
KRA101 Chemistry 1A
CXA101 Introduction to Medical Laboratory Sciences
CZZ101 Human Anatomy and Physiology 1A
CXA103 Health: Determinants and Analysis
Semester Two
KRA102 Chemistry 1B
CZZ102 Human Anatomy and Physiology 1B
CAM103 Scientific and Research Literacy
CXA184 Foundations of Health Literacy
Total = 100 credit points.
2
Year Two
What you will study
Semester One
CXA261 Metabolic Biochemistry
CXA211Immunology
CXA225 Histology
CXA212 Pathology of Common Diseases
Semester Two
CXA231 Haematology 1
CXA241 General and Medical Microbiology
CXA222 Histopathology
CXA251 Clinical Chemistry 1
Total = 100 credit points.
3
Year Three
What you will study
Semester One
CXA315 Cell and Molecular Biochemistry
CXA332 Haematology 2
CXA342 Medical Microbiology A
CXA352 Clinical Chemistry 2
Semester Two
CXA300 Human Molecular Biology
CXA333 Transfusion Science
CXA343 Medical Microbiology B
CXA353 Clinical Chemistry 3 (Endocrinology)
Total = 100 credit points.
Year 4
Semester One
CXA401 Medical Laboratory Practice
CXA412 Medical Laboratory Placement 1
CXA425 Medical Laboratory Placement 2
Total = 50 credit points.
Brianna Atto, Bachelor of Laboratory Medicine (Hons)
"To think my research may improve the quality or even length of life for affected individuals is incredibly motivating. Because Launceston is small, there are strong connections between the University, local hospital and medical researchers. This provides students like me with great opportunities."
You'll graduate ready for an exciting career at the forefront of Laboratory Medicine. The opportunities are vast, including roles with diagnostic pathology labs or in the medical research field.
This degree can also be used to launch a career in medical research, veterinary laboratories, diagnostic and pharmaceutical companies or health management.
A number of graduates have used their degree internationally, working in pathology laboratories across South East Asia and Europe.
Professional Recognition
The Bachelor of Laboratory Medicine is accredited by the Australian Institute of Medical Scientists (AIMS).
Graduates from this course meet the academic requirements for direct entry into the Australian Institute of Medical Scientists.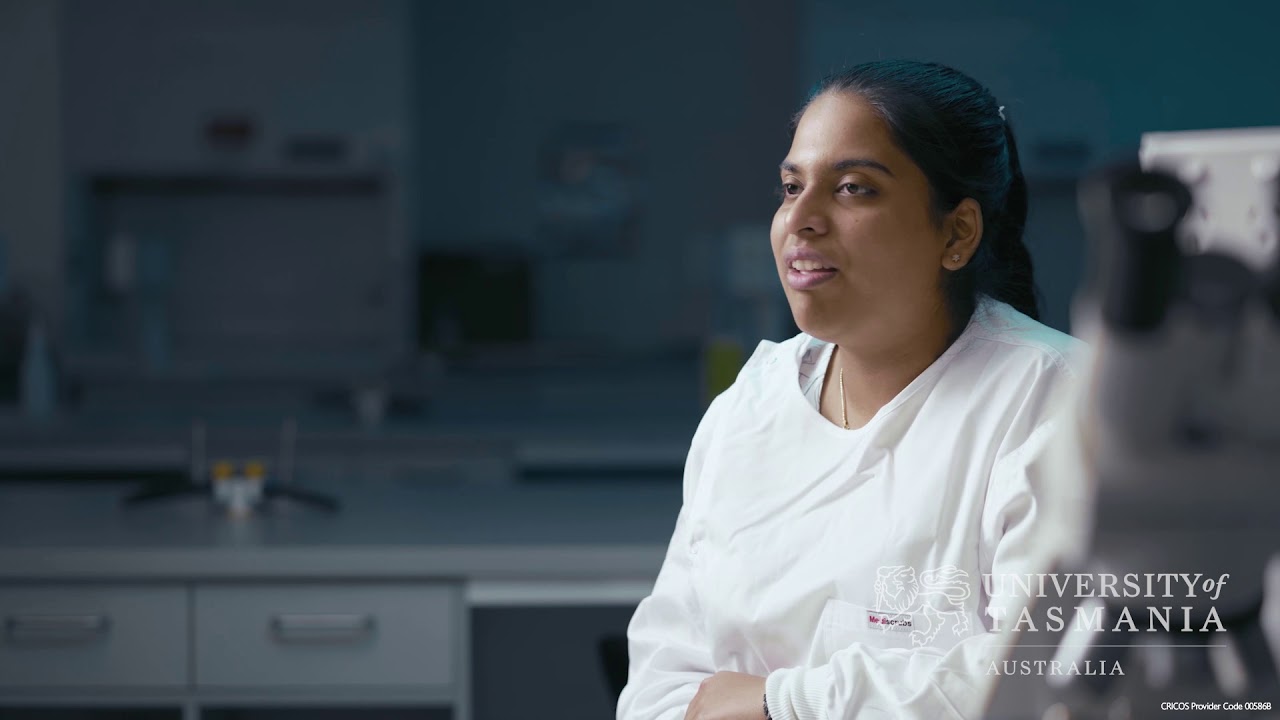 Sathya Perrera graduated in 2019 from Bachelor of Laboratory Medicine
Sathya Perrera is an outstanding student from Sri Lanka who studied the Bachelor of Laboratory Medicine and graduated in 2019. She is currently working for Hobart Pathology, Tasmania. Learn more about her story.
Entry requirements
Entry requirements vary across courses. You'll find the requirements on our individual course pages. These can be accessed from Course Options, which is located at the top of this page.
We encourage you to apply for the courses you most want to study. If you're not eligible to enter your chosen course right now, our admissions team will work with you to find the best pathway option.
Credit for prior learning
The University of Tasmania aims to provide you with credit for approved prior study or equivalent professional experience which exceeds standard entrance requirements for courses. For more information please visit Recognition of Prior Learning.
English language requirements
For those applicants who are nationals of and currently residing in a country where English is not the official language, evidence of an IELTS or TOEFL test must be provided. For more information, please visit International Future Students.