Whether you're looking to embark on a career at sea or take the next step into the maritime industry, an Ocean Seafaring degree is the gateway to working aboard vessels around the globe.
Ocean Seafarers work on large international vessels in Australian and international waters, as well as offshore vessels in the oil and gas industries. Our study options are designed to deliver globally-recognised qualifications to become Deck Officers and Marine Engineers. You'll get hands-on learning in the best simulator facilities in the Southern Hemisphere.
Course Options
Bachelor of Applied Science (Marine Engineering)
4.5 Years full-time
Launceston, Distance CRICOS 077530D
Bachelor of Applied Science (Nautical Science)
4.5 Years full-time
Launceston, Distance CRICOS 077531C
Study at Australia's national institute for maritime education, training and research. #1 globally in the latest International Association of Maritime Universities (IAMU) benchmarks.
We're the strategic education partner for Australia's Naval Shipbuilding plan, with close links to the Australian maritime and shipbuilding industries.
Experience what it's like to be in control of a vessel using one of the world's most advanced maritime simulators.
Pathways
At the University of Tasmania, we'll help you get the skills you need to pursue a degree. We offer a wide range of preparatory and pathway programs, as well as short foundation programs, to assist in the transition to university.
Nautical Science
Learn about navigation and vessel handling at a world-leading maritime institute. Prepare for a career as a Navigation Deck Officer, with the required skills to safely manage and operate any type of vessel in the merchant fleet. You'll learn about navigation, vessel handling and management, transport, marine legislation and safety.
Marine Engineering
Focus on the operation and maintenance of shipboard marine engineering systems. This major will prepare you for a career as a Certified Marine Engineer with the skills to work aboard commercial vessels. Learn about marine engineering systems, vessel structure and operations, transport, vessel management, marine legislation, marine survey and safety.
Bachelor of Applied Science (Choice of Major)
4.5 Years full-time
Core Units (187.5 credit points)
You'll complete eight core units covering the fundamentals of Ocean Seafaring, which are common across all majors.
Professional Short Courses (147.8 credit points)
Complete eight units focusing on your chosen major.
Training at Sea (18.75 credit points)
A cadetship or employment with a shipping company is required in order to complete the sea-time phases of this course. Employment may be sought either before or after Year 1 (Pre-Sea) studies.
Katie Fuller, Australian Maritime College Graduate
"I started learning to sail in a mirror dinghy, ended up keeping watch on oil and gas tankers."
Employment opportunities for Seafarers are growing across a range of industries.
Industry demand for Seafarers at sea are set to increase by 11.6% by 2023
Ashore positions are expected to grow by 17.7% by 2023
Australia has a forecast skills shortage of more than 550 Seafarers by 2023.
Citation: MIAL Seafaring Skills Census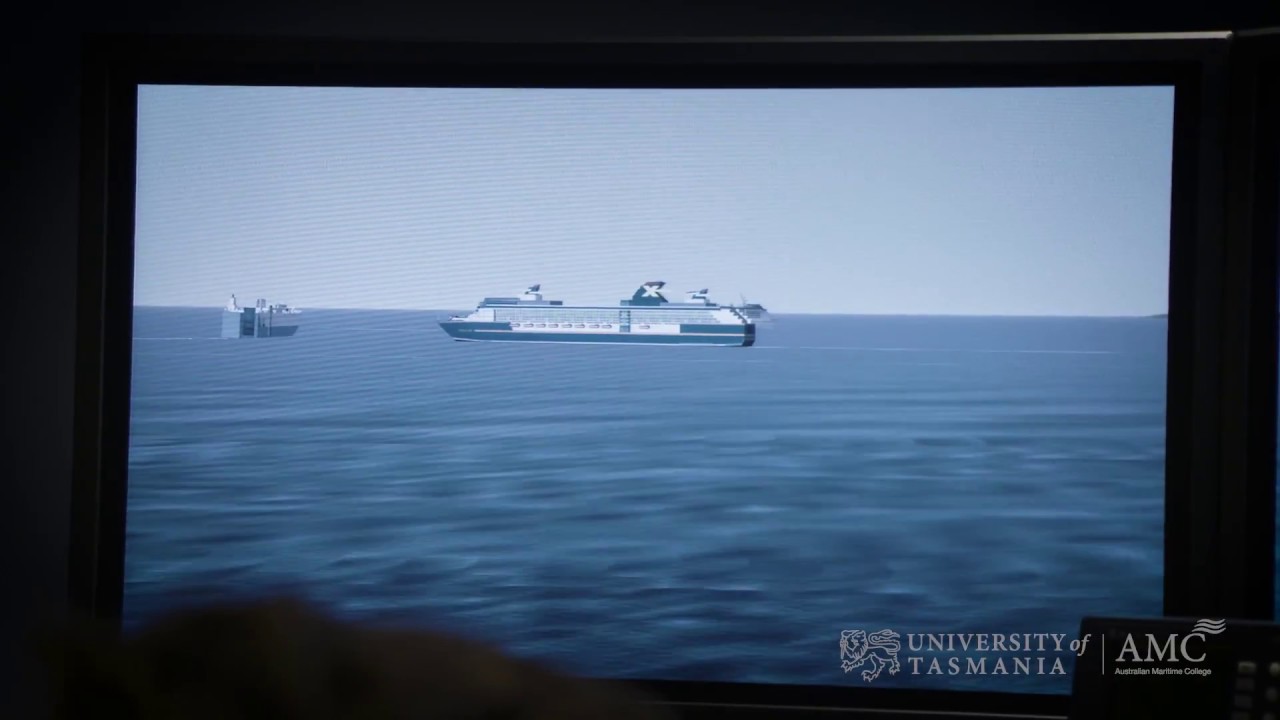 Experience what it's like to be in control of a vessel using one of the world's most advanced maritime simulators.
Our state-of-the art suite of facilities offers real-time maritime simulation technology that includes a full-mission ship's bridge simulator, two 360-degree tug simulators, advanced dynamic positioning bridge simulator, six basic dynamic positioning simulators, six ship operations cubicles and an 18-seat electronic chart display lab as well as a full mission engine room. The simulation facilities are used for research and investigation into port development, ship manoeuvring, improving ship and port safety and efficiency, training seafarers and teaching.
Entry requirements
Entry requirements vary across courses and are available on each individual course page, which you can access from Course Options. We encourage you to apply for the courses you most want to study. If you're not eligible to enter your chosen course right now, our admissions team will work with you to find the best pathway option.
Credit for prior learning
The University of Tasmania aims to provide you with credit for approved prior study or equivalent professional experience which exceeds standard entrance requirements for courses. For more information please visit Recognition for Prior Learning.
English language requirements
For those applicants who are nationals of and currently residing in a country where English is not the official language, evidence of an IELTS or TOEFL test must be provided. For more information, please visit International Future Students.