Integrity, accountability, respect and teamwork – these qualities embody the practice of Paramedicine.
If you're compassionate, committed and want to make a difference in your community, then a career in Paramedicine may be for you.
The Bachelor of Paramedic Practice degree is offered in Hobart, Tasmania, and Sydney, NSW. This degree gives you the knowledge and skills to assess and manage the broad range of out-of-hospital clinical presentations within a safe, effective and ethical practice framework, preparing you for a role as a paramedic.
Course Options
Bachelor of Paramedic Practice
2 years full-time
Hobart and Rozelle
Bachelor of Paramedic Practice with Honours
1 year full-time, up to 3 years part-time
Hobart and Rozelle
Study the only course of its kind in Australia.
Fast-track your career and begin helping people sooner.
Variety of placement opportunities available.
Pathways
At the University of Tasmania, we'll help you get the skills you need to pursue a degree. We offer a wide range of preparatory and pathway programs, as well as short foundation programs, to assist in the transition to university.
As a graduate, you'll have the knowledge and skills to assess and manage a broad range of clinical presentations in an out-of-hospital setting.
You'll understand the importance of informed clinical reasoning, in situations often complicated by unpredictable environments.
Bachelor of Paramedic Practice
Offered in Hobart, Tasmania and Rozelle, NSW. It will include a number of opportunities to learn in a simulated environment and the real world. This includes in the University's ambulance simulation vehicle, and in practice at various ambulance stations and other specialist health facilities, such as hospitals and aged care organisations
Students will undertake clinical placements in various ambulance stations and other specialist health facilities, such as hospitals. In addition to experience in healthcare settings, you'll also access the latest technology and modern simulation equipment in both Hobart and Rozelle.
1
Year 1
Semester 1
Health and Health Care in Australia
Principles of Paramedic Practice 1
Evidence Based Research Methods
Mental Health Care in Out of Hospital Practice
Semester 2
Principles of Paramedic Practice 2
Perspectives on Ageing
Fundamentals of Bioscience
Aboriginal and Torres Strait Islander Health and Well Being
Responding to Diversity: Global Perspectives
Spring School (extended)
Legal and Ethical Issues in Health Care
Emergency Ambulance Clinical Placement 1
Medical Emergencies for Out-of-Hospital Practice 1
2
Year 2
Semester 1
Bioscience 1
Pharmacology in Practice
Medical Emergencies for Out-of-Hospital Practice 2
Semester 2
Bioscience 2
Professional Clinical Placement 2
Trauma Care in Out-of-Hospital Practice
Health Services and Health Informatics
Environmental Emergencies for Out-of-Hospital Practice
Obstetrics and Pediatrics in Paramedic Practice
Professional Development in Paramedic Practice
Emergency Ambulance Clinical Placement 3
Optional Additional Unit
Foundations of Human Bioscience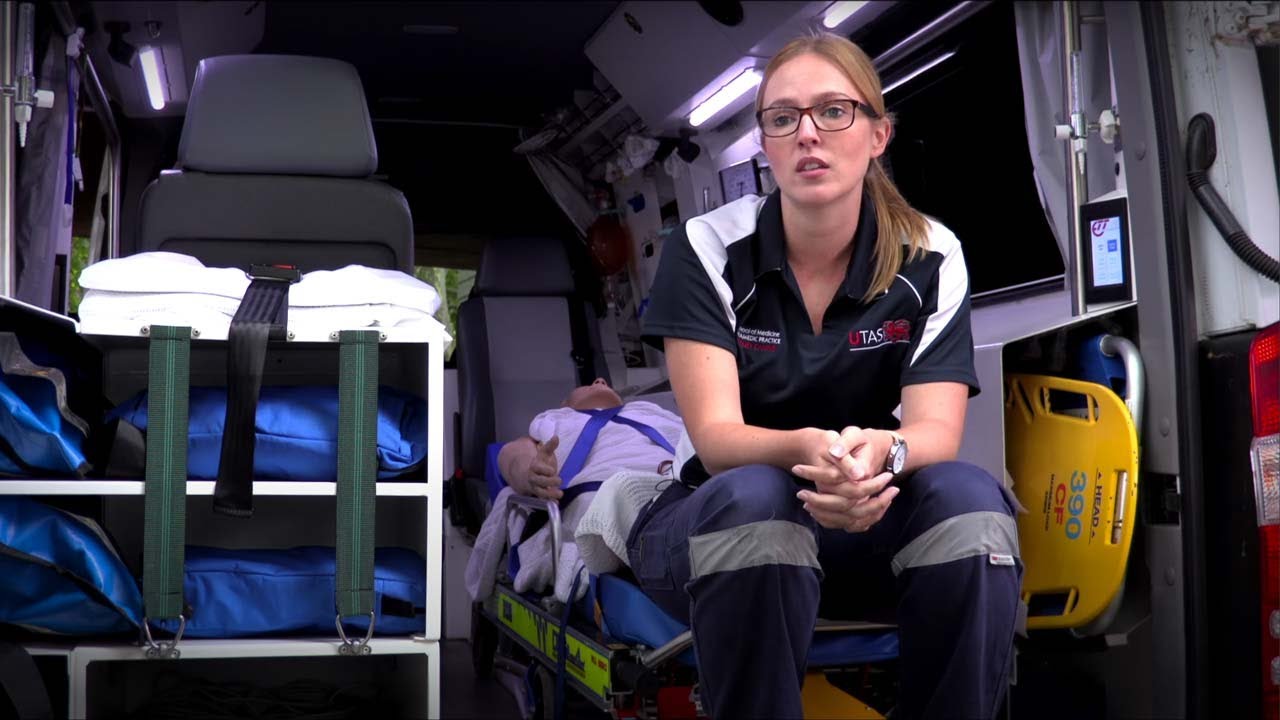 Tegan Groom, Rozelle Campus, Sydney
"I like the fact that it's outside, it's active and it's different every day. It's different every job. You have no idea what's going to happen until that job drops down – it's really exciting."
The healthcare industry in expected to grow by over 15 percent over the next five years.
You could find work as a paramedic in organisations such as:
State-based ambulance service around Australia or New Zealand
International ambulance services
Mining and industry health services
Community-based health settings
Professional Recognition
Graduates will have met the professional requirements for employment as a Graduate Ambulance Paramedic and be eligible for membership of Paramedics Australasia. Graduates will also possess the attributes to be employed in a Paramedic role within other occupations, such as industry emergency response personnel and community-based emergency health settings.
Department of Employment, Skills, Small and Family Business five year projections from May 2019 to May 2024.
Entry requirements
Entry requirements vary across courses and are available on each individual course page, which you can access from Course Options. We encourage you to apply for the courses you most want to study. If you're not eligible to enter your chosen course right now, our admissions team will work with you to find the best pathway option.
Credit for prior learning
The University of Tasmania aims to provide you with credit for approved prior study or equivalent professional experience which exceeds standard entrance requirements for courses. For more information please visit Recognition for Prior Learning.
English language requirements
For those applicants who are nationals of and currently residing in a country where English is not the official language, evidence of an IELTS or TOEFL test must be provided. For more information, please visit International Future Students.