A love of tourism, Tassie, and people made Marketing Management student Mark Acheson the perfect person to give a popular outdoors brand an online boost.
Mark holds a Bachelor of Arts majoring in Journalism, and worked in journalism for two years before deciding to come back to University.
I thoroughly enjoyed working in the media, but thought I would up-skill more and enrolled in a Master of Marketing Management.
"Marketing complements journalism very well. They're both in the communications sphere. Looking around at a lot of jobs while I was a reporter, I saw that people were saying 'great you can communicate as a journalist, but can you market too?' It's almost expected to be this double skill set now.
"To add a Masters on top of some journalism experience will hopefully hold me in good stead out in the working world."
And it's been a great fit for him.
It was really refreshing and enlightening, especially the Corporate Internship program. Hands-on experience is one of the best things you can do, and you can do that while also ticking off units at UTAS. It's a no-brainer.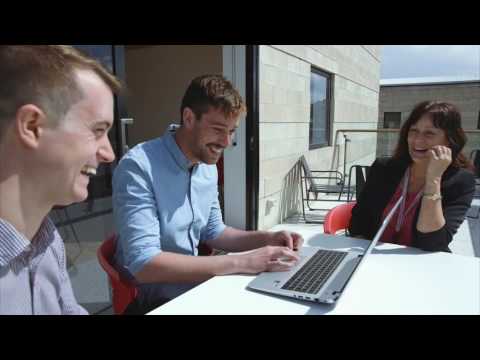 Mark, who was already working in retail at Kathmandu, saw the potential for the brand to align itself with Tasmania's recent tourism boom. And when he saw a poster on campus advertising the Corporate Internship, everything fell into place.
"It seemed an obvious choice to put the two things together.
"I've always had a passion for our tourism industry, whether in my journalism capacity, or my own personal interest. I thought that Kathmandu, being about the outdoors and adventure, could really leverage off Tassie's tourism boom.
"My idea was the top 10 Tasmanian destinations. What I wanted to do was correlate the Kathmandu name with Tassie tourism by featuring products and apparel."
With his writing skills, he was able to write the campaign's content as well as pitch, design, carry out the logistics, and then see the end result.
I did two days per week of placement in my first semester. Fortunately I was able to repeat my internship with Kathmandu. I was getting to the exciting stage in semester two. Semester one I pitched my idea, organised it, and semester two was actually carrying it out and measuring it.
"We have things like Lonely Planet reporting us as one of the top 10 destinations in the world, and the Chinese president visiting. The spotlight is on Tassie so I thought, let's give this a crack!"
Mark's digital campaign was indeed a cracking success.
"It was a great success in terms of our research and metrics. It's hopefully food for thought for them in the long term.
"I know all about the brand and it fits so well with tourism, not just Tasmania but Australia as a whole. It could be applied to any state or territory.
"I really appreciate them giving me the internship and saying, 'let's give this a go.' It's been amazing to see a project from beginning to fruition."
Mark said the internship was a smooth process, with excellent support from the Tasmanian School of Business and Economics.
"I just love the human aspect of marketing, dealing with different individuals and packaging it all together. Being a people person has a big role to play in marketing, as well as being organised, being punctual, and being energetic."
Mark said his dream career would be driving the tourism brand or industry in a marketing capacity for a state or territory in Australia.
"I'm so passionate about it, seeing what tourism for Tasmania has done and where that can be applied elsewhere," he said.
Experience is everything, and this project gave me exactly that.