The human brain is a very complex organ. The desire to uncover its secrets and understand its diseases is what motivates neuroscience researchers.
Renee Pepper is a PhD student at the Menzies Institute for Medical Research, College of Health and Medicine, at the University of Tasmania.
"My project is about the cells in our brain called oligodendrocytes. Their role is to insulate the nerve cells in our nervous system and their main function is to allow the efficient transfer of messages throughout our nervous system.
"In diseases such as MS we see damage of this insulation, and that causes devastating effects.
My project is about understanding the mechanisms that regulate these cells, in the hope that one day we might be able to push the oligodendrocytes towards repairing the damage caused in MS.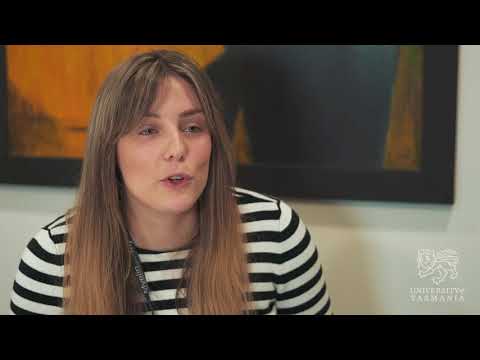 "A lot of the work that our lab focuses on is looking at genes that are disrupted in people with MS and how that might be contributing to disease progression."
Renee has a friend with MS, which has strengthened her resolve to keep researching the condition.
"People can be affected by MS quite young, in their mid-20s. That can put quite a big burden on their quality of life and perhaps influence their decisions on their career choices, and what they might be doing in the future."
MS is not just something that I'm studying in the lab, it's something that people live with every day of their lives.
In the lab, Renee spends a lot of time imaging oligodendrocytes using special fluorescent markers. This allows her to "follow their fate" see whether or not they're young or old oligodendrocytes.
"That requires a lot of time on microscopes and cutting tissue and preparing for imaging. We're really lucky in terms of equipment and facilities here," she said.
Renee became interested in neuroscience for her PhD project after listening to lectures from Menzies researchers, including her supervisors Dr Kaylene Young and Dr Carlie Cullen.
"What I really enjoy about doing research and studying a PhD is that every day is different.
The research that we're conducting in our lab is novel research that hasn't been done anywhere else in the world.
"It's really exciting to know that you're the first person to discover a particular finding or conduct a particular set of experiments.
"I find medical research particularly interesting because, in a way, it feels like you can make a difference in other people's lives without necessarily dealing with patients or being a doctor in a hospital, and so I really like that rewarding aspect of it."
Renee is soon off to the prestigious Stanford University in California to present her PhD research to the neuroscience department.
"I'm really lucky to be able to visit Stanford before going off to attend the Cold Spring Harbor Laboratory's meeting; that is one of the leading meetings of the world of all the researchers in my particular field.
My aim for the future is to continue on in research and have a research career. I think that would be a really rewarding and fascinating career choice.
And while she hopes to one day work overseas, for now Renee is very happy with her choice to study in Tasmania.
"I've always loved Tassie. I think it's a really convenient place to live: it's only 10 minutes for me to get into work any particular day, and I think it's probably one of the only places in the world that you can drive 10/20 minutes in any direction and get to a beach or a national park," she said.
"It gives you the balance that you need."
Interested in conducting your own research? Apply now to become a research student.
Find out more about the College of Health and Medicine here.