Introduction to Family History
Ever wanted to know more about your past?
Introduction to Family History is designed for people interested in their own family histories or genealogy in general. You will learn how to research family history accurately and efficiently using the growing range of online family history resources. You may be surprised at what you discover and what you can share with family and friends.
---
Online: Introduction to Family History is part of a fully online suite of units which enable flexible study. It is one of five foundation-level units available in the Diploma of Family History. Students must complete four foundation-level units and four 100-level units to complete the Diploma.
---
Free access to Ancestry.com Library: Gain free access to billions of historical documents, millions of historical photos, plus local narratives, oral histories and other resources that span from the 1500s to the 2000s.
---
What you will learn
On successful completion of this unit you will be able to:
Demonstrate knowledge and understanding of family history principles and planning
Locate and use major family history repositories and records
Critically evaluate sources for accuracy and reliability
Identify and discuss genealogical problems and develop plans for solving them
Present your genealogical work in a manner that is ethical, clearly written and referenced according to the unit guidelines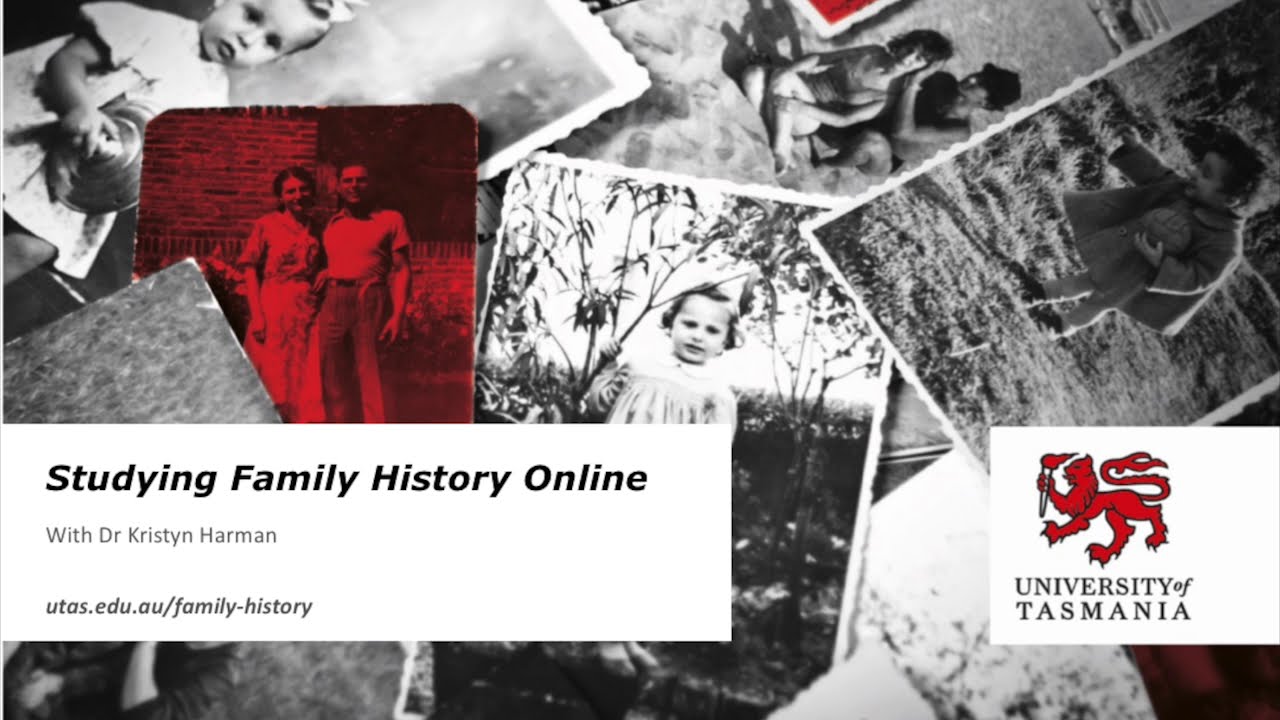 Study Family History Online Talk
As part of Family History Month 2018 Dr Kristyn Harman, course coordinator of the Diploma, presents her talk with course graduate Caroline Haigh at Libraries Tasmania.
What students say...
"I had been researching my family history for years and thought I had already found pretty much all there was to find. But the Introduction to Family History course pointed me towards new resources, sharpened up my research skills and led to new discoveries. It also helped me navigate through the maze of web-based resources and to identify the reliable ones."
- Lisa Hutton, Australian, living in France
---
Fees
Tuition Fees
Most Australian or New Zealand citizens, or holders of a permanent visa are eligible for a Commonwealth Supported Place (CSP) when studying the Diploma of Family History. In 2019, for CSPs the student contribution is $820.00 for Introduction to Family History (2020 tuition fees will be published in October 2019). These costs can be deferred under the HECS-HELP loan scheme for eligible students.
To find out more about the University's fees including how and when to pay them, please visit Fees & Charges.
Student Services and Amenities Fee (SSAF)
The Student Services and Amenities Fee (SSAF) is a compulsory fee for student services and amenities of a non-academic nature such as employment and career advice, financial advice, childcare, food services and sporting and recreational activities.
All Commonwealth Supported Students must also pay the SSAF, including those studying online. In 2019, this fee is $45.45 per unit. The maximum charge for full time students is $303. In 2020, this fee is $46.20 per unit. The maximum charge for full time students is $308. These costs can be deferred through the SA-HELP loan scheme for eligible students. A claim form is available for completion on eStudent.
For more information about the SSAF including how the University uses the fee to fund student services, please visit SSAF.
Electronic Commonwealth Assistance Form (eCAF)
Completing an eCAF form is a requirement for all students. The eCAF is a government form that is available online through eStudent. Instructions for how to complete the eCAF form will be included in the content for Introduction to Family History. Also see eCAF Instruction Guide (PDF 531KB). Should you have any problems submitting your eCAF, please contact us by email ASC.Contact@utas.edu.au, phone +61 3 6226 6365, or the Contact Us online form.
---
Frequently Asked Questions
Inspired to keep learning?