Pink handfish seen for the first time in 22 years
23 December 2021
Exciting discovery offers hope for the ongoing survival of this rare species
A team of scientists is unlocking the secrets of Tasmania's deep with a surprise sighting of the very rare and threatened pink handfish (Brachiopsilus dianthus).
A detailed joint survey with Parks Australia and the University of Tasmania showed the endangered fish on underwater camera in the wild and remote Tasman Fracture Marine Park, off the south-west corner of Tasmania.
The species was last seen by a diver on the Tasman Peninsula in 1999 and was recently listed as endangered.
A marine scientist made the 'needle in a haystack' discovery while analysing video footage from a baited remote underwater stereo video used in the survey, which was led by marine biologists, Associate Professor Neville Barrett and Dr Jacquomo Monk.
"The joint survey is a fantastic opportunity to document the species that live in the Tasman Fracture Marine Park and understand which are the common and the rare species in these remote and inhospitable environments," said Associate Professor Barrett, from the Institute of Marine and Antarctic Studies.
"The biggest surprise was in finding a pink handfish in the park at a depth of around 120 metres. Until this sighting, the species had only ever been recorded four times and was listed as a rare species under Tasmania's Threatened Species Act earlier this year.
This is an exciting discovery and offers hope for the ongoing survival of pink handfish, as clearly they have a wider habitat and distribution than previously thought.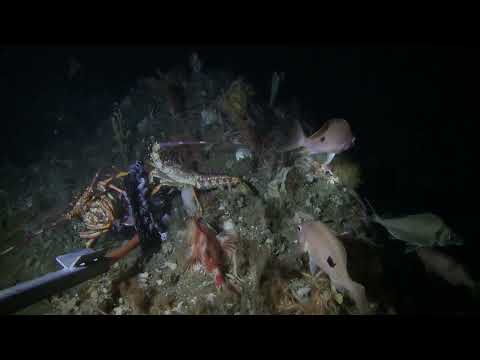 The extremely rare footage shows the pink handfish to the right of screen, partially obscured by swaying seaweed while two rock lobsters fight over a baited camera. 
The pink handfish, initially curious about what was going on, quickly swims away as a third rock lobster joins the fray. 
Parks Australia First Assistant Secretary, Jason Mundy, said: "Collaboration is the key to surveying this extraordinary marine park where underwater canyons and mountains hold a remarkable diversity and abundance of marine creatures, most of which are found nowhere else in the world.
"This rare sighting during a joint survey with the University of Tasmania demonstrates the benefits of working in partnership with research institutions in managing our marine parks."
The Tasman Fracture Marine Park is particularly known for a key ecological feature—a four-kilometre-deep crack in the earth's crust where marine life has been found on seabed to depths of over 4000 metres.
In addition to the deep shelf rocky reefs that were the core of this study, the park features distant offshore seamounts covered in gorgonian corals, gooseneck barnacles and millions of round, purple-spotted sea anemones.
Also found during recent CSIRO seamount surveys are hundreds of species new to science, including a carnivorous sea squirt, sea spiders and giant sponges.
Associate Professor Barrett said the University of Tasmania study was the second in a planned time-series of studies to monitor changes in the shelf waters of the marine sanctuary zone following initial protection in 2007, with the information used to inform ongoing adaptive management.
"The research team looks forward to finding more handfish and other unusual species in this area in the future, as part of ongoing collaborative studies supported by Parks Australia," he said. 
(Banner image):  The pink handfish was previously last seen off the Tasman Peninsula in 1999 (Photo by Karen Gowlett-Holmes).
TAGS:
IMAS-Research
IMAS
Fisheries-and-Aquaculture
About Associate Professor Neville Barrett
Over the past 20 years, Assoc Prof Barrett's research and engagement in collaborative projects have contributed widely to our understanding of the biodiversity and ecology of temperate reef systems in Australia. This has contributed in a variety of ways to marine protected area management and planning, biodiversity conservation, and sustainable fisheries management through an improved understanding of the system-wide effects of fishing.
View Associate Professor Neville Barrett's full researcher profile