They may not be cute and cuddly, but these Aussie animals need our help before it is too late.
A new study from the Threatened Species Recovery Hub predicts that 11 species of snakes and lizards are likely to become extinct by 2040 unless there is a stepping up of conservation action, and identifies the 20 snakes and lizards at most risk of extinction. 
The research team included 27 reptile specialists from universities, government agencies, zoos and museums across the country.
Australia has more reptile species than any other country; we are home to about 10 per cent of the world's species.
The study published in Pacific Conservation Biology found that our most imperilled reptile is the Victoria grassland earless dragon, which was once fairly common in grasslands west of Melbourne but has not been recorded since 1969.
Other species on the list include the Arnhem Land gorges skink, the Lake Disappointment ground gecko, the Cape Melville leaf-tailed gecko, the Roma earless dragon, the Mount Surprise slider and the Christmas Island forest gecko.
More than half of the imperilled snake and lizard species are found in Queensland. Western Australia has three species on the list, two are from Christmas Island, and the Australian Capital Territory, the Northern Territory, Victoria and New South Wales each have one species.
University of Tasmania biologist Associate Professor Erik Wapstra said that species were most at risk when populations were already small or isolated and restricted in geographic range.
"It is especially concerning that many of the species identified in our study require more research to understand even their basic population sizes and the risks they face. Studies such as this highlight the importance of expert knowledge and species-specific information," Associate Professor Wapstra said.
"While no Tasmanian species were identified as under immediate threat, the processes that threaten other species also occur here.
"Many of our Tasmanian species are endemic, have restricted and isolated geographic ranges and are prone to disturbance events and effects of changed natural systems. The study identified that Tasmanian species face risk, but not in the immediate future."
Associate Professor Wapstra and his research group have previously noted particular concerns for Tasmania's alpine adapted species, with potential upland invasion by lowland species under a warming climate.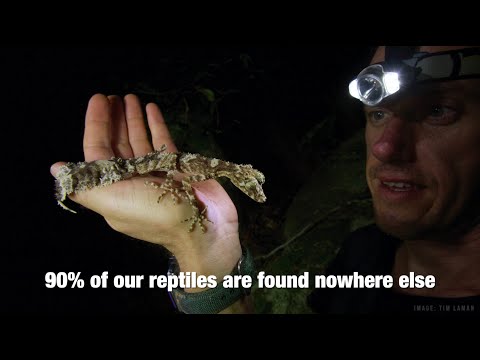 One recent study demonstrated that lowland species will increasingly reproduce earlier under warming climates. As a result, they may expand their range upwards in the future potentially displacing the alpine adapted species.
However, these processes were likely to play out over longer timescales than those considered in the current species which are on the brink (at risk in the next 20 years).
Charles Darwin University researcher and lead author Hayley Geyle said the conservation of Australian reptiles has received a lot less attention than birds or mammals, but this needs to change if we are to prevent extinctions.
"This research helps to prevent extinctions. By identifying the species at most risk, we aim to give governments, conservation groups and the community time to implement emergency conservation actions before it is too late," Ms Geyle said.
"Invasive plant and animal species are the most common threats to imperilled snakes and lizards, followed by agriculture, altered fire regimes and climate change.
"Although most of the species we identified were historically more widespread, each now occurs in a relatively small area. This makes them vulnerable to extinctions caused by single catastrophic events, such as a large fire."
The research found that lack of monitoring was another issue hampering reptile conservation efforts, with undetected extinctions likely to have already taken place.
The study is part of a broader project by the Australian Government's National Environmental Science Program to identify the Australian plants and animals at most risk of extinction. 
Associate Professor Erik Wapstra is also part of the IUCN SSC Skink Specialist Group, a global network of skink biologists and conservation managers that aims to complete Red List assessments for all skink species worldwide, identify species with high extinction risk and determine the underlying factors for this risk.