Surveying and Spatial Sciences
Spatial data underpins almost every aspect of modern life. Advanced spatial data management skills equip us to make meaningful contributions to society; measuring and mapping our natural and built environments and monitoring changes including those related to climate change. Our education programmes and research reflect this diverse and critical contribution to the community.
The surveying and spatial industry is amongst the nation's fastest growing sectors. There is significant demand for graduates capable of working with spatial data and technologies to solve diverse problems across the natural, rural and built environment. In recent Commonwealth Government publications, graduates of Surveying degrees have been recognised as amongst the most employable of all university graduates.
50 years of Spatial Science
This year we celebrate the 50th anniversary of Spatial Science at the University of Tasmania.
Why study Surveying and Spatial Sciences with us?
Our courses, encompass the full spectrum of surveying and geospatial information science at the undergraduate to postgraduate level. We consider problems at scales from millimetres to those that span the entire globe and beyond, and work from the urban setting to developing countries to the most remote regions of the Earth in Antarctica.
Unmatched practical and field experience.
Industry-leading surveying and spatial science equipment is utilised from first year, as is our cutting-edge drone laboratory. Beyond the equipment, a huge range of field-based units get you out into the living laboratory of Tasmania, providing genuine environmental learning experiences.
Amongst our award-winning staff are Australia's best spatial scientists, producing world-leading climate change research, and our comparatively small class sizes provide unparalleled access to their experience and connections.
"Spatial science is crucial in today's data driven world. The breadth of practical experience you get here at the University of Tasmania means when you graduate, you're job-ready to enter a dynamic, fast-growing industry."
Nicolas Johannsohn, Surveying and Spatial Sciences student
What Careers relate to Surveying and Spatial Sciences?
Skills and knowledge in surveying and spatial sciences is a vital component of projects across an increasingly wide range of industries within both government and private enterprise including cadastral surveying, land planning and development, environmental management, civil engineering, mining and agriculture.
In March 2019, the report 'Determining the Future Demand, Supply and skills Gap for Surveying and Geospatial Professionals 2018-2028' forecasts a shortage of surveying and spatial scientists across Australia over the next decade. This high demand is also coupled with a forecast that those job opportunities will come with salaries well above the national average.
Every industry on Earth utilises surveying and spatial sciences in some way, and graduates will therefore have the opportunity to pursue their any career that they choose, such as:
Geospatial analyst and GIS specialist


Conduct computer-based mapping and analysis of spatial information, answering 'what if' questions at both the small and large scale to assist with efficient and effective decision making. From assessing plausibility of constructing billion-dollar tunnels under cities, or projecting housing expansion over the coming decades, or assessing traffic congestion solutions or evaluating climate change effects on the environment geospatial analysts are involved in many different types of practical, important projects around the world.

Remote Sensing specialist


Provide measurement, mapping and data analysis from drone, aircraft and satellite sensors, mapping areas of the world that can't otherwise be easily accessed of visualised, both in real-time e.g. during bushfires and floods, and as part of ongoing planning and management e.g. tracking climate change impacts over time, in both urban and remote settings.

Land & Engineering Surveyor


Measure and define land boundaries. Surveyors play an integral role in all aspects of land development, from planning and design of land subdivisions through to the construction of major, infrastructure, roads and buildings. Licensed Land (Cadastral) Surveyors are always in demand as they are the only people legally able to define land boundaries.

Hydrographic Surveyor


Measure and map the seafloor to inform large scale marine oriented projects, like ensuring ports and shipping lanes are accessible to facilitate global trade.

Geodesist


Utilise satellite and terrestrial data to measure and map the Earth, and to monitor regional and global changes like sea level rise, shifting ice sheets, and earthquakes.
"The University of Tasmania has taught me the academic requirements and also the practical skills to make me 'job ready' by the end of my degree."
Nathan Batge, Bachelor of Surveying and Spatial Science Graduate
Professional Recognition
Graduates of the Bachelor of Surveying and Spatial Sciences are eligible to apply for membership of the Surveying and Spatial Sciences Institute (Australia). The SSSI also provides free student membership to current students.
The degree is internationally accredited through the Chartered Institution of Civil Engineering Surveyors (ICES). This accreditation ensures that the degree program meets standards set by industry and also provides free student membership of ICES for the duration of their course and graduate membership upon completion.
For registration as a Land Surveyor in Tasmania, graduates are required to complete the 3-year Bachelor of Surveying and Spatial Sciences followed by the Graduate Diploma in Land Surveying, and then undertake a period of supervised professional experience and examinations through the Tasmanian Land Surveyors Accreditation Board.
Students graduating with the Bachelor of Surveying and Spatial Sciences and the Graduate Diploma in Land Surveying are recognised by the Malaysian Land Surveyors Board for progression to the registration processes managed by the Board as a Land Surveyor in Malaysia.
Our Surveying and Spatial Sciences Research
The Surveying and Spatial Science team at the University of Tasmania undertakes world class research addressing problems of direct societal significance by harnessing the value of spatial data.
Areas of specific focus across the broad 'Earth Observation' domain include remote sensing and geospatial analysis of environmental phenomena from the local to the landscape scale, and environmental space geodesy with emphasis on sea level, polar geodesy and global planetary change.
Our research programs attract funding from the leading funding agencies including the Australian Research Council (ARC), and extend to research consultancy across the private and government sectors.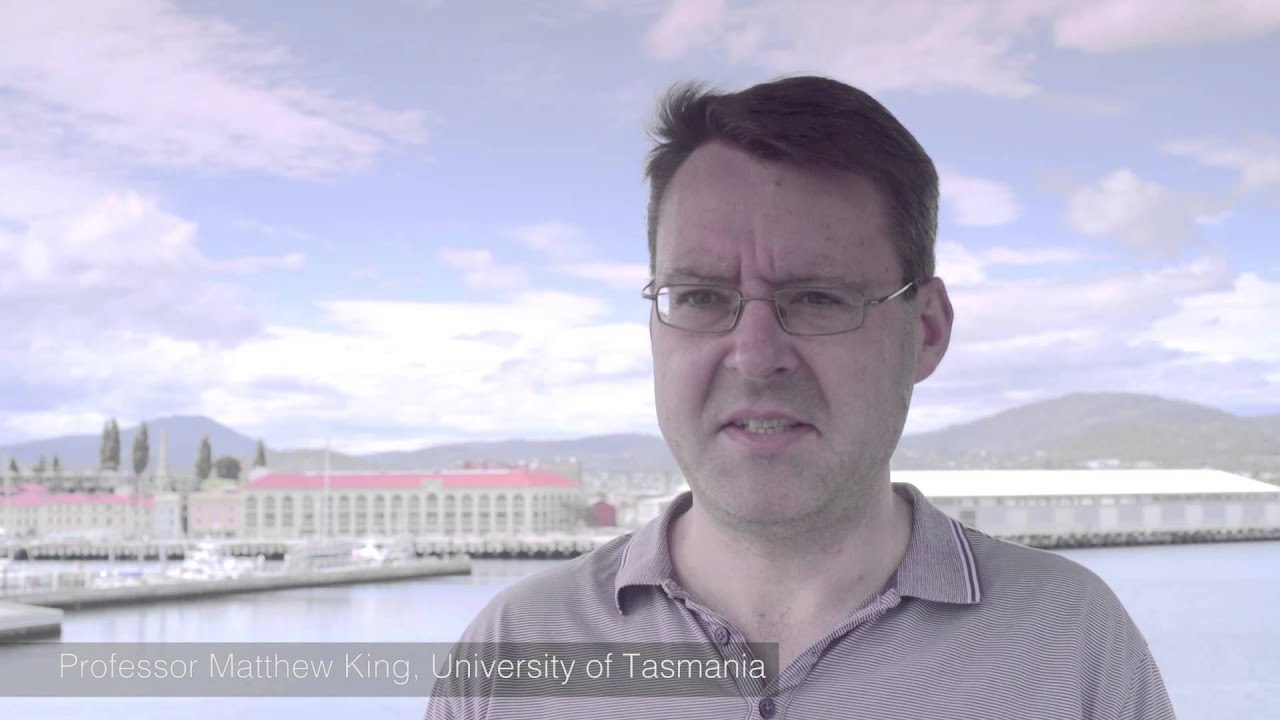 'Weighing up' a key climate change question
Two satellites are an integral part of Professor Matt King's quest to reduce uncertainty around how much do melting ice sheets contribute to the world's rising sea levels.