Earth Sciences is the study of the Earth. It includes studies of tectonic processes leading to volcanic eruptions, earthquakes, and the generation of mineral, petroleum and water in the Earth's crust.
Earth Science creates knowledge relating to our dynamic planet through bold field programs in geoscience, volcanology, geochemistry, geophysics and marine geoscience, and through innovation in state of the art technologies. The study of the Earth is fundamental to understanding and mitigating climate change, and an enabler of sustainability. It is a truly global science discipline, and a degree in Earth Science can take you anywhere!
Practical, hands-on learning for applied careers
Few scientific disciplines are as hands-on as earth sciences. We ensure your education experience prepares you for whatever career path you pursue by offering field trips, land- and ship-based research experiences, access to our world leading researchers, Australia's best mineral analysis facilities, and CODES, one of the world's leading mining and mineral research centres, right from day one.
When you study with us, your experiences go beyond just access to laboratories. We ensure you learn to use our extensive range of industry standard equipment yourself, providing the practical skills and knowledge you need to forge careers all over the world.
Networking and support from Tasmania to the World
Geology Students' Club
University is as much about the people you meet as the subjects you learn. Though the very active UTAS Student Geology Society you can get together with like-minded students, navigate the exciting challenges that come with undergraduate study, and make great friends along the way.
For more Information, please check out the society's Facebook page and Instagram feed.
Geological Society of Australia Tasmanian Chapter
Earth Science' staff and students are active members of the Geological Society of Australia Tasmanian chapter. Highlights include monthly seminars by local, national and international visitors on topics that span the range of Earth Science, and field trips all over Tasmania with geological experts.
Read more about the Geological Society of Australia & Geological Society of Australia- Tasmania Division
Study Options with Earth Sciences
Earth Scientists are curious about the world around them, extending from the deep earth to surface processes throughout geological time. No matter your interest, or where you are at in your career, we have course offerings to help you build your knowledge and skills towards a rich and fulfilling, lifetime career in Earth Sciences.
We strive to provide the highest quality undergraduate and postgraduate training in Earth Science, maintaining our reputation for outstanding professional geoscientists who are skilled and passionate about addressing the needs of a global society.
Careers
Study here, work anywhere
Our graduates have forged exciting careers around the world, undertaking exciting work as diverse as finding underwater volcanoes to exploring the depths of Antarctic ice cores. You may be interested in entering the mineral exploration and mining industry, and thanks to our excellent research strengths and long-standing connections with industry partners around the globe, can potentially be recruited straight from your undergraduate classes due to the breadth of networking opportunities we offer.
After completing an undergraduate degree, you may look to gain industry experience, or continue studying and complete a research honours year in one of our four specialisation areas - Economic Geology, Geochemistry, Geoscience, or Geophysics. Research honours can give you valuable practical experience prior to securing a job, or be the first step of a career in research.
Earth sciences is a truly global science, and no matter which area you find interesting or what motivates you, there are exciting opportunities to be found right here in Tasmania, all around the world.
We're the national leader in Earth Sciences research
The University of Tasmania is ranked highest out of all the Australian Universities in the field of Earth Sciences* combining our research impact and engagement, quality of research output, and number of categories assessed. Our research is closely linked to the Centre for Ore Deposit and Earth Sciences (CODES), located at our Sandy Bay campus. Since opening its doors in 1989, CODES has established an outstanding reputation and is widely regarded as the global leader in ore deposit research.
The Discipline of Earth Sciences at the University of Tasmania are proudly ranked in the top 50 in the world* for Earth and Marine Sciences, and equal second in Australia in Earth Sciences** due to our high quality undergraduate, postgraduate and academic research in the geological sciences. We are also ranked 5/5, or 'well above world class' in the Excellence for Research in Australia (ERA) rankings.
*2018 Excellence in Research Australia rankings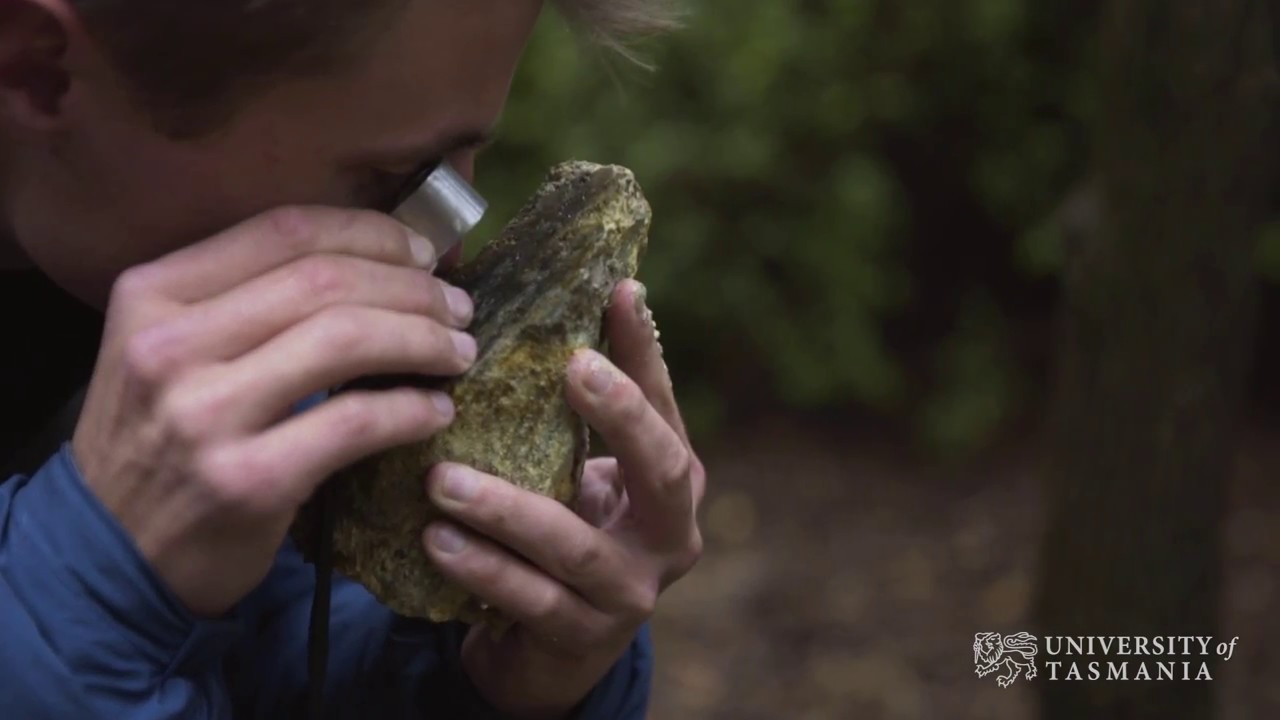 Earth Sciences Ranking
Earth Sciences at the University of Tasmania is ranked amongst the best in Australia, and the world.
Our Earth Science research students are achieving amazing things both above and below the ground.
More information available at Rankings rise for Earth Sciences
Facilities
Earth Sciences and CODES jointly house a range of world-class research and teaching equipment and facilities. In addition, we collaborate with National Research Facilities for research ships and submersibles, geophysical equipment, high performance computing and cloud research platforms. As we are a world leading research centre, our researchers, your teachers, utilise these facilities every day to provide analysis and reports for industries all over the world.
While you are studying, you have significant opportunities to get hands-on with this very same equipment, gaining first-hand practical experience on industry leading facilities that makes you highly desirable to future employers.
Central Science Laboratory
Earth Science staff conduct research in the University of Tasmania's Central Science Laboratory (CSL). In addition to the world class facilities and expertise, many CSL staff are also Earth Scientists, permitting an extra level of helpful service and advice.
Visit the Central Science Laboratory website to learn more.