Overview
2018
This course may not be available to international students. Please see the list of distance courses (i.e. online and taken outside Australia) that are offered to international students
Integrity, accountability, respect and teamwork – these qualities embody the practice of Paramedicine.
If you are compassionate, committed and want to make a difference in your community then a career in Paramedicine may be right for you.
The Bachelor of Paramedic Practice degree is offered in Hobart TAS, and in Rozelle NSW. This degree will provide you with the knowledge and skills to assess and manage the broad range of out-of-hospital clinical presentations within a safe, effective and ethical practice framework, preparing you for a role as a paramedic.
The degree will include a number of opportunities to learn in a simulated environment and in the real-world. This includes in one of the University's ambulance simulation vans, and in practice at various ambulance stations and other specialist health facilities, such as hospitals and aged care organisations.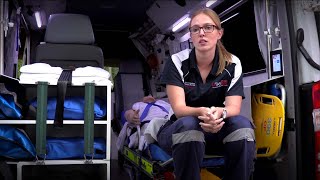 "I like the fact that its outside, its active and it's different every day. It's different every job. You have no idea what's going to happen until that job drops down - it's really exciting."
As a graduate of the Bachelor of Paramedic Practice, you will have the knowledge and skills to assess and manage the broad range of clinical presentations in an out-of-hospital setting.
You will understand the importance of critical, informed clinical reasoning in the context of the out-of-hospital care of the undifferentiated patient, in situations often complicated by unpredictable and challenging environments.
Students will undertake clinical placements in various ambulance stations and other specialist health facilities, such as hospitals. The student will be responsible for their transport and other associated costs during these clinical placements.
In addition to experience in healthcare settings, you will also have the opportunity to:
Access the latest technology and modern simulation equipment in both Hobart and Rozelle
Undertake interdisciplinary learning activities with students studying other health courses such as nursing and medicine
Participate in community engagement activities such as Open Day
"The opportunity to work alongside Tasmanian paramedics confirmed for me that a career in Paramedicine was something that I would enjoy."
Professional Experience Placement Requirements
Safety in Practice Compliance
All students enrolling in Faculty of Health programs which include a professional experience placement component, laboratory and/or field activity are required to establish and maintain their capacity to practice safely via Safety in Practice Requirements compliance documentation.
The Faculty, in accordance with Safety in Practice Compliance and Risk Assessment Procedure, assesses student compliance with Safety in Practice Requirements, which include:
national criminal history;
working with children registration;
medical, physical and psychological capacity to safely undertake the Faculty of Health Mandatory Functional Requirements; and
infectious disease and immunisation status.
National criminal history and medical, physical and psychological disclosures can inhibit student eligibility to participate in courses. Students must submit the Safety in Practice Requirements compliance documentation to enable risk assessment to be completed before:
semester one census date annually; or
in case of late enrolment, prior to beginning study.
The exceptions are the Working with Children Registration and Immunisation Record Card check, which must be completed 4 weeks prior to first PEP.
Career outcomes
You could find work as a paramedic in organisations such as:
Your state based emergency service around Australia or New Zealand
International ambulance services
Industry emergency response units
Non-emergency transport
Community based emergency health settings
"The Fast-track option persuaded me to study at the University of Tasmania because it means that I can get into the workforce earlier than other options."
Professional Recognition
Graduates will have met the professional requirements for employment as a Graduate Ambulance Paramedic and be eligible for membership of Paramedics Australasia.Graduates will also possess the attributes to be employed in a Paramedic role within other occupations, such as industry emergency response personnel and community-based emergency health settings.
Course structure
This course is offered two years full-time (and may only be studied full-time, on-campus), studying across three semesters per year.
During first year you will:
Learn the theoretical and practical sides of foundational health care
Undertake specialist paramedic units to develop an overview of health care and bioscience
In the second year you will:
Continue to further develop and build on your knowledge and skills in the critical care environment
Incorporate your understanding of out-of-hospital health care and its critical place in the field of emergency patient care
You will be taught within a safe, effective and ethical practice framework. The course content and patient management approaches are based upon current best evidence, nationally and internationally, combined with considerations of patient values, and local health resource considerations.
Year 1
Semester 1
Semester 2
Spring School (extended)
Student choice elective
Year2
Semester 1
Semester 2
Spring School (extended)
Optional Additional Unit
CXA002
Foundations of Human Bioscience
Details
Foundations of Human Bioscience is a support unit that will reinforce the content of CXA107 whilst developing the thinking and study skills essential to the study of bioscience at a university level.There will be particular focus on developing a sound…
Credit Points: 12.5
This unit is currently unavailable.
Entry requirements
If you're interested in studying the Bachelor of Paramedic Practice, you will need to meet the following requirements:
If you've just finished school
An ATAR score of 75 or higher.
While there are no pre-requisite subjects you must study for entry into the course, we recommend you have foundation knowledge in:
English studies
Health studies
Biology
If you're a mature age student
Every mature age application is assessed individually. We'll consider your work and life experiences, along with any study you've done that would make you a good fit for the course.
When applying you will need to:
Provide a supporting statement with information on relevant experience
Safety in Practice Compliance
In order to commence workplace integrated learning outside of the University of Tasmania (including clinical placements and visits) students are required to demonstrate compliance with the Faculty of Health and the School of Medicine policies relevant to workplace based learning which are contained in the Faculty 'Safety in Practice Kit'. These include a National Police Check, Infectious Disease Policy, Code of Conduct and Student Placement Agreement. Students who do not comply with these policies will not be placed or will be removed from placements and therefore will not be able to complete this course. Students who have not complied or are unsure of the policies should seek guidance from the School.
Fees & scholarships
Domestic students
Domestic students enrolled in a full fee paying place are charged the Student Services and Amenities Fee but this fee is incorporated in the fees you pay for each unit you enrol in. Full fee paying domestic students do not have to make any additional SSAF payments.
Annual Tuition Fee is inclusive of the compulsory Student Services and Amenities (SSA) fee. The SSA fee for 2017 is $294 AUD.
Scholarships
For information on general scholarships available at the University of Tasmania, please visit the scholarships website.
How can we help?
Do you have any questions about choosing a course or applying? Get in touch.
Domestic

International

Email

Online
Next steps